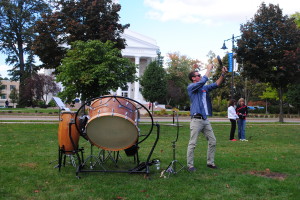 Kicking off this season's "New Music at Lawrence" series was an outdoor performance of "Inuksuit," a piece written by contemporary composer John Luther Adams for up to 99 percussionists. Dean of the Conservatory of Music Brian Pertl encompassed the musical experience by sporting a shirt that read "Listen Deeply."
This work was composed to be performed outdoors, so if you were wondering why there were drums, cymbals and other percussion equipment scattered on Main Hall Green on Sunday, here is your explanation. The performance was a collaboration of studios, made up of the Lawrence University Percussion Ensemble, LU Flute Studio, University of Wisconsin-Steven's Point Percussion Ensemble, UW-Oshkosh Percussion Ensemble and additional LU students and faculty from the Conservatory, numbering 60 musicians in total.
Based in Alaska, Adams' works are rooted in the earth and "Inuksuit" is a perfect example of this, as it is inspired by stone sentinels constructed by the Inuit people of the Arctic centuries earlier. Sunday provided a beautiful autumn afternoon for the performance, with streams of sunlight hitting newly colored leaves, creating an experience very much tied to its natural setting.
The structure of the performance calls for musicians spread out across an expanse of land, so there were musicians reaching from the library to the Ormsby lawn. The audience is encouraged to walk around and "mingle" among the musicians, hearing different sounds and interactions with every step.
The piece began with all the musicians concentrated in a circular formation in front of Main Hall and the first section consisted of "amplified breathing," made possible with conch shells and breathing through megaphones. As the students breathed, they spread across the lawn in all directions to create the wide circumference Adams asks for.
The next section began with the shaking of maracas, opening the space to all percussion instruments and pitched instruments, such as vuvuzelas, more conch shells, rain sticks and whirling pipes. This landscape of aural effects then morphed into a more rhythmic section, with each percussionist taking their place at set-ups of drums, cymbals, gongs and bells. Moving across the lawn, a cacophony of beats and rhythmic ideas circulated around the space, sometimes matching up with another musician and sometimes sounding completely free.
As the drums faded, the cymbals rose and took over the next section, rising and falling unpredictably. Morphing from the ringing of the cymbals, piccolos began twinkling like birdcalls from all over the lawn and even in trees.
Freshman Luis Gonzalez explained that, "The whole experience of having my first performance, at Lawrence be so unique and interesting as "Inuksuit" is nothing but amazing. At first I was confused that I was going to play a show where there is no conductor, no clear start or end and breathing for ten minutes. After our full run through, it was amazing how a soundscape can be created by musicians with a simple idea in mind. With this piece, I just get excited for what other musical opportunities are to come."
Musicians, Lawrentians, families, dogs and anyone who happened to pass by gathered to take in an experience like none other, one of truly deep listening. Thank you to all of the Conservatory faculty who made this happen—it is yet another example of the wonderful and unique musical experiences Lawrence offers to students, faculty and community members.