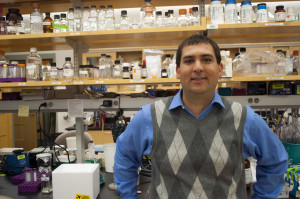 Assistant Professor Brian Piasecki's life revolves around dissecting questions about living things and figuring out how they work. This Assistant Professor of Biology has been teaching at Lawrence since 2011, but he is far from his hometown, Plano, Texas. Piasecki describes it as "a pretty suburban place with lots of strip malls and roads and middle class houses that look like cookie-cutter houses." However, he never fully felt comfortable there, and he had a journey to take before he finally arrived at the place that would be perfect for him.
Piasecki did not know until his junior year of college at the University of North Texas that he wanted to teach biology, but his passion for biology was sparked years prior. "I was influenced by my freshman biology teacher, Mrs. Poovey; she was really a lot of fun and she made biology a lot of fun," reflected Piasecki.
When asked why he decided to teach biology as a career, Piasecki enthusiastically replied, "I ended up deciding that I really liked the types of questions I could answer in biology. I really enjoyed learning how living things work. There are two different broad types of mindsets; you're either taking patterns that you see and trying to understand things as a whole, or you can deconstruct something and understand how it works at its most intricate level. That's how my brain works best."
After earning his B.S. at the University of North Texas, his M.A. at the University of Texas at Austin, his Ph.D. at the University of Minnesota, and completing his postdoctoral fellowship at the Karolinska Institute in Stockholm, he was offered a temporary job here at Lawrence University, which turned into a full-time job as Assistant Professor of Biology.
Piasecki loves teaching here, and is able to transfer his passion for biology to his students. Piasecki described his joy of teaching students: "I'm either turning them on to science or really getting to see them blossom and bud into whatever field of biology is most interesting to them. There's always an element of newness in my job which keeps me feeling fresh."
Piasecki says what he loves most about teaching is that he loves "being in the classroom with the students and interacting with them one-on-one." What he hates the most about teaching is being "saturated by the workload." He has many classes that are maximum size for Lawrence, and because he highly values grading well, he has a lot to do outside of the lecture hall.
In his (limited) free time, Piasecki likes to hike, camp, bike and play soccer with other professors on an intramural team.  However, he says his free time "mostly revolves around his one year old right now." He also added with a smile, "It's awesome!" Aside from his adorable little girl, Piasecki is grateful to be living in Appleton because it is so safe and he can bike to work.
Piasecki obviously loves biology and teaching biology, but he also has another passion one might never guess. When asked if he could have any other job, he said: "I think bridges are really cool…so maybe building bridges!" He is fascinated by the Works Progress Administration, the famed infrastructure portion of the New Deal, and said he would be interested in being a scholar of that, as well.
We are certainly lucky Mrs. Poovey instigated Piasecki's passion not only for biology but for learning back in high school. His infectious passion is catching, whether it is about biology or bridges, and we are lucky he has found his home here. As a closing remark to the students of Lawrence University, Piasecki urges students to "Take one of my classes!"