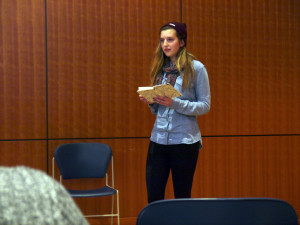 "I tore my meniscus and then my girlfriend broke up with me. On the same day," said sophomore Colt Dalton before reading at Tropos' first Poetry Night on the evening of Monday, Oct. 7 at 8:00 pm. Besides Dalton, ten other students recited original pieces or poems from their favorite collections. With Fall Out Boy softly playing in the background, the Pusey Room was filled with almost thirty students eager to hear their fellow students read some poetry.
The sponsor of the event was Tropos, Lawrence's literary magazine.
Poems ranged in style, length and content. There was even a performance piece that incorporated singing parts of the poem. Freshman Bre Sande performed the only slam piece of the night.
"I would definitely [read] again. It was a very welcoming environment. When you're reading and you can see people are into it, it makes you feel even better about writing in the first place," said Sande.
Audience member and senior Sadie Lancrete said, "I was really impressed with the range of material. Because sometimes there is a small demographic of people who write poems."
The audience was as diverse as the material read. Students returning from sports practice, escaping from burrows in the library for the first time that day and Conservatory students were all seen at the poetry reading.
"I was really surprised by the turn out," said senior Amelia Anderson, who attended the event. "I just wish I brought [my poetry] because it looked like it was really fun to read."
This type of popularity is new for the magazine, which is ultimately a mysterious presence on campus, said senior and Tropos co-editor Susannah Gilbert. "We went through a few years where there wasn't strong leadership [for Tropos] on campus," she said. "I'd say that until last year, or the year before, there just wasn't a lot of energy. "
Junior and Tropos staff member Bryan Cebulski agreed, saying, "The [previous] leaders of Tropos were not very active. We just wanted to do something to get our name out there. We also want to create an outlet where people can—I'm trying to avoid the phrase 'express themselves'—share their work."
Due to the success of the poetry reading, the Tropos staff is encouraged in seeking a greater presence on campus. They hope more publicity will aid them as they look for new work to include in their yearly publication.
"One year we got like six different photos of flowers and we couldn't take them all or else it was going to look like a gardening magazine," said Gilbert. "So we try to balance it, try to take things that seem fresh and striking in some way."
Students can look forward to more Tropos poetry nights this term. Submissions for the magazine, due Friday Oct. 25, or general questions about Tropos can be directed to tropos@lawrence.edu