F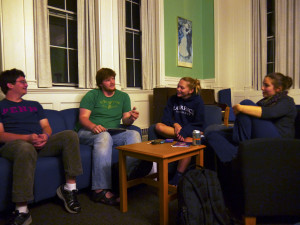 or the first time this fall, nine Freshman Studies classes have included weekly meetings with two upperclassmen mentors in an effort to help new students get acclimated to life in college. These nine groups are part of the new CORE program, the brainchild of LUCC President senior Nicholas Paulson. Though in its trial period, CORE has been well-received by freshmen participating and, if all goes well, may continue to grow.
The purpose behind CORE is encapsulated in its acronym. As stated on its website, CORE is designed to "help new students make Connections, get Oriented to campus, understand campus Resources, and balance their Expectations." It is a supplement to the already well-established and required Freshman Studies classes, a staple of the Lawrence curriculum given in seminar format.
Weekly meetings of CORE have a similar structure across all nine groups, though the two upperclassmen leaders shape these meetings in a few unique ways. Each begins with the typical icebreaker of "highs and lows," followed by a topic of discussion. This weekly topic is chosen by head coordinator Paulson and always pertains to life at Lawrence, from extracurricular activities to living in a dorm for the first time.
The first CORE students are responding to the program well. Some leaders are going out of their way to let students contact them anytime through texting, bringing baked goods to meetings and simply being available to hang out. "Just being able to ask somebody [about life at Lawrence] and having a structured time to do it is really nice," says freshman Lucy Wallitsch. "I think there's a lot less anxiety knowing that."
Long in the making, the idea of CORE began during Paulson's internship with the Campus Life office. As part of his research on social and academic programming, he surveyed universities across the country to gain insights into theories of student development. Through his research, he discovered the idea of the "first year experience."
"The 'first year experience' is this very intentional structuring of the freshman year," Paulson explained, "so people get connected, involved, feel like they belong here and come in contact with different topics so that they can grow and develop."
From his summer research in 2012, Paulson produced the syllabus for a small version of CORE to be run by RLA staff out of the Trever Hall lounge. He said the staff saw "substantial growth," in the participants and therefore proposed making it into a sub-section of Freshman Studies. By working closely with Campus Life and Curt Lauderdale in particular over the 2012 to 2013 school year and summer, Paulson has pushed CORE to the next stage.
Once the first two terms of CORE end, participants will be assessed to gauge how connected they feel to the Lawrence community as compared to students not involved in the program. After that, Paulson will propose making CORE its own class to Dean of Students Nancy Truesdell and then President Mark Burstein. Paulson acknowledged that there's a possibility not all faculty will be on-board with the idea of CORE as a functioning class. "There might be a fight," he stated.
"The goal is to have this pilot be a success so we can do it for the entire campus in the next year or two," stated Paulson, "and hopefully create an institutional way where we're having students reflect on the day-to-day stuff that you don't often get."
The benefits of CORE are already seen in and out of the meetings. "Professor Tim Troy actually mentioned to one of the CORE leaders that he could very much notice that students were more comfortable sharing and talking outside of the classroom discussion," said Paulson.
As with anything new, there are kinks to work out. Attendance problems are pertinent among a few groups because as a trial program, CORE meetings are not technically required. Wallitsch remarks, "If you never go, you never really realize why it's good."
On the other hand, freshman Amy Hutchings could barely contain herself with excitement about CORE, saying, "It's a good way to get to know the people in your freshman studies class and to talk about important topics on campus. I wasn't sure about it at first, but it's a really good program."
Paulson acknowledges his own freshman experience at Lawrence as a big factor in his participation on campus.
"There were people who mentored me, who connected me to things and that really helped me shape my freshman year," Paulson said, "We're hoping that the CORE leaders will fill that role. I don't think they're going to be able to do it for all people, but for the people who are looking for some kind of touchstone guidance, for someone to connect them, we're hoping that that's what the CORE can do."
For more information about this pilot program, contact Curt Lauderdale, Assistant Dean of Students for Campus Life, at curt.lauderdale@lawrence.edu.