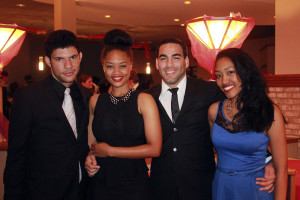 The Blue and White Dinner and Lawrence International Formal are two formal events that occur every year during Fall Festival. The Blue and White Dinner is an event held to induct and honor athletes into the Intercollegiate Athletic Hall of Fame and the LI Formal is an opportunity for international and domestic students to socialize and celebrate culture.
The name "Blue and White" originates in the school colors. This year, the dinner was held on Friday Oct. 4 in the Esch Hurvis room and included speeches from the inductees, student speakers and coaches' remarks.
According to Stephanie Kramer, Assistant Director of the Alumni and Constituency Engagement, "the Blue and White Dinner is a joint effort between the ACE office and athletics."  Kramer worked alongside with Director of Athletic Media Relations Joe Vanden Acker to organize the event.
This year, there were five new inductees into the Hall of Fame including Hans Hartwig '35, John Bill '79, Dan Dreyfus '87, Maggie Phillips Reeve '96, and Mark Smrecek '00. In addition to recognition at the dinner, inductees were announced and recognized at the homecoming game during the halftime show.
There is a ten-year waiting period in order to be inducted, meaning that a student graduating next spring would be eligible in 2024.  For a coach to be eligible, they must have at least 20 years of combined service at Lawrence or time away from the school.
The event serves as a celebration for old team members, as well. "All Hall of Famers are invited back every year for the event, as well as anyone who participated on a team with the inductees. Inductees are welcome to extend invitations to friends and family to join them for the festivities," Kramer said.
Kramer believes the event is a great way for the inductees to be honored and celebrated. "It's an opportunity for the Lawrence community to come together and celebrate some great, notable and often moving athletic and life achievements of these individuals.  We can reminisce about these accomplishments while at the same time looking ahead with excitement to what's in store for Lawrence athletics in the coming years," said Kramer.
Another event that happened on Friday night was the first Lawrence International (LI) formal dance of the year, with the theme "Arabian Nights."
According to LI Publicity Manager and senior Amaan Khan, the theme was chosen because "it fit with what is going on and it explored a different culture."
LI is a club that is open to all students and whose main purpose is to bring together both international students and domestic students to facilitate sharing of their respective cultures' collective communication.
The purpose of having a formal is "to provide an off-campus opportunity for both international and regional students to explore a different culture," Khan said. He hoped that students got to "interact with each other and meet new people."
The music at the dance ranged from Bollywood music to Latin and Korean music.
According to freshman Evelina Vang, "the dance was enjoyable. It was nice meeting new people and I would like to help with a dance like this in the future."
This is one of two formals that LI will hold. The other formal will be during Spring Term.