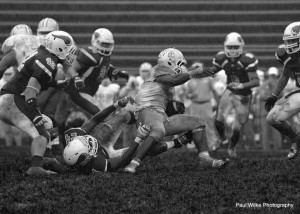 The Lawrence University football team lost Saturday, Oct. 5 to the Illinois College Blueboys at the Banta Bowl, by a final score of 26-6. This weekend's loss brings the Vikings record to 0-4 on the season.
It was an anxious Viking team that took the field this Saturday. At a record of 3-0 going into this game, Illinois College stands as one of the top teams in the Midwest Conference. Combined with the heavy rain, many players went into this game with nervous anticipation. The 84 minute rain delay, however, actually helped the Vikings compose themselves. "A lot of guys were very anxious going into this game," said sophomore cornerback Zach Eichhorst. "You could tell everybody was really nervous, but as the delay went on we started to relax, we started some music and started dancing which really settled us down and got us ready to play." The positive attitude was not enough, however, as the Blueboys scored touchdowns off of a strong offensive drive in the first quarter and an interception return, bringing the score to 13-0. "The return of the interception was tough," recounts Eichhorst. "But we stayed supportive and kept a positive attitude." This time the positive attitude paid off as the Vikings put together a strong offensive showing to start the second quarter. The drive finalized on a touchdown pass from senior quarterback Luke Barthelmess to senior Sam Wagner, which brought the score to 13-6. The Vikings also finished the half with some excellent defense, both forcing a fumble and preventing any Blueboy score.
The second half did not go as well for the Vikings. During the third quarter, Illinois College scored two more touchdowns to bring the score to 26-6. The score remained that way throughout the rest of the game as neither team scored in the fourth.
Overall, this game was characterized by an inability to convert on third down and missed opportunities in the red zone. The Vikings were able to successfully convert five out of 15 third down attempts; a statistic that needs to be increased in order for the offense to score more points and win more games. Also, more long offensive drives that result in points would help to tire the other team's defense and take away more opportunities for their offense to score.
This week the Vikings will prepare for their next game by practicing to become more effective in tackling and finishing long drives. Their next game will be this Saturday, Oct. 12 at Carroll University, where the Vikings look to earn their first win.