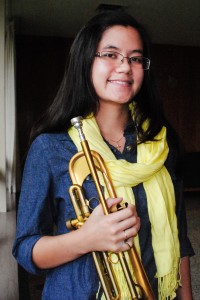 Josie Gomez, a talented trumpet player, will be performing her senior recital repertoire with junior flautist Leo Sussman at 8:00 p.m. on Saturday, Nov. 2. Gomez, who is earning a B.A. in music, has been an active member of ensembles and solo performances throughout her time at Lawrence and plans to pursue a career in nursing after her graduation this Spring.
While she may not be following a path related to trumpet performance, Gomez says, "I've loved my time here as a music student because I was a biochemistry major, then I was pre-med and now I'm pre-nursing. But through all of that music has been a source of enjoyment for me. It's always fun to go play music."
She plans to continue to perform no matter where her career in nursing takes her, as well as continue to study music history and composition informally. Studying theory, history and composition of music were, in fact, some of her most valued experiences within the Conservatory. "I loved that as a music major I was able to take classes in all of the disciplines, such as music history, theory and composition," she said.
Gomez has focused mainly on classical trumpet performance and names Symphonic Band as her favorite ensemble experience. "I've liked the Symphonic literature we've done," she says. "To me, it's one of the most enjoyable environments because you're surrounded by so many people [so] that it's not as stressful as a solo performance and the amount of people creates a good atmosphere."
However, her best moments within her four years have come through solo performance. "One of my most proud moments was when I was able to overcome the nervousness and really just play my instrument," she says. "A lot of times it's frustrating because you know you can play the instrument better but because of the physical things that happen due to nerves you cannot perform to the standard you usually can."
When talking about the differences between her experience in the Conservatory and the college, Josie suggests that progression can be harder to see in musical performance than in academic fields. "In my academic classes, we have quizzes and see the progress we're making, but in trumpet sometimes it's more gradual and therefore less noticeable." However, she is a true fan of the Conservatory. "It's really nice to be around the high caliber of music the Conservatory has."
For her recital, Gomez will be performing a piece of music that she first discovered in her sophomore year music theory class. "I'm really excited because I will be playing a song cycle from Schubert's "Winterreise." I first discovered it in my music theory class as a sophomore," she says. "I think that's a cool way to come full circle with my time in the Conservatory."
Gomez in also pleased with the material as it will highlight her strengths as a trumpet player. Any nervousness she discussed previously is not apparent on her face as she talks about her upcoming recital, only excitement. She closes by saying, "I'm excited to share with my friends and family what I've been doing for the past four years and perform what I've been practicing for so many hours!"