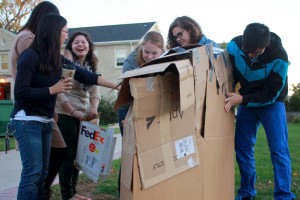 On Saturday, Oct. 12, students gathered on Main Hall Green to build makeshift shacks in Lawrence University's annual Shack-a-Thon. This year's Shack-a-Thon raised more money than the past two years combined because of the large number of participating teams and the new additions to the event this year.
Shack-a-Thon is put on by the Habitat for Humanity club on campus and all the money raised goes towards building a Habitat house in the Appleton community. This year, the club raised $800. The money was raised through the eight teams that participated, which each gave $100 to the charity.
"Shack-a-Thon is one of Habitat's most important events because it brings awareness of housing issues to the campus, as well as to the entire community," said senior Emily McLane, a member of Lawrence's chapter of Habitat for Humanity. "This event is a great way to get student groups together for a fun team-building activity that also engages them in supporting Habitat's mission."
The teams who participated created shacks to simulate what it would be like to live as a homeless person. In past years, teams could sleep over night in their shacks. This year, each team had six hours to complete their shack, which was then judged for its aesthetic quality and how well the students incorporated this year's theme of "Into the Jungle."
The winning team this year was Beta, who made a shack entirely out of wood. Other shacks were made out of other materials the teams could find, like stone or cardboard. The Sig Ep team built the largest shack, using basketball hoops as support beams.
"We are trying to use this [Shack-a-Thon] as a building block to get more community involvement in Habitat," said senior Samuel Wagner, co-president of the Habitat for Humanity club. "We wanted to make this a cool event to get students, especially new students, interested in what our club is doing."
This year's competition featured some new additions, such as  live music, which played throughout the night, and a guest speaker. The guest speaker was sophomore Kat Noll-Arias, whose family lives in a Habitat home.
Along with Shack-a-Thon, Habitat for Humanity also presented a documentary made by senior Kate Siakpere. Siakpere participated in a spring break Habitat for Humanity trip to build homes in Guatemala. The film showed the daily progress of the students and what they accomplished during the trip.
"It is an awesome documentary that explains the daily struggles Guatemalans face and the need for houses in this country," said junior Betsy Sorenson, co-president of the Habitat for Humanity club.
One of the overall goals, according to Sorenson and Wagner, along with trying to raise money for Habitat, was also trying to get more students to join the club. "We are trying to raise awareness and show that Habitat is a strong club on campus," Wagner said. "We want to get our name out there to the rest of the Lawrence community."