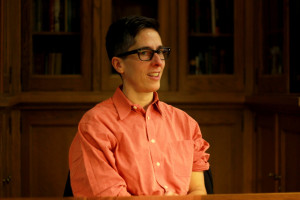 Acclaimed cartoonist and author Alison Bechdel visited Lawrence on Tuesday, Oct. 15 to deliver a Convocation speech, entitled "Drawing Lessons: The Comics of Everyday Life." Bechdel spoke on the relationship between writing and illustration, her creative process and her experience of making the personal and familial very public. A public question-and-answer session followed that afternoon in the Warch Campus Center Cinema.
Bechdel is creator of the long-runing comic strip "Dykes to Watch Out For," author of the graphic novel memoirs "Fun Home: A Family Tragicomic," released in 2006 and just last year, "Are You My Mother?: A Comic Drama."
While "Fun Home" focused on the bisexuality and suicide of her father and Bechdel's relationship with him, her sequel, "Are You My Mother?" centers on the complicated relationship with her mother. Bechdel's mother passed away this past year.
Her comic strip "Dykes to Watch Out For," which ran from 1986-2008, followed on the lives of a group of mostly lesbian friends, a "hybrid of a soap-opera and an editorial cartoon," in Bechdel's words. The widely used "Bechdel test" for gender bias in movies, television and literature is a product of this strip.
Lecturer of Gender Studies and Freshman Studies Helen Boyd-Kramer recalls her first contact with Bechdel's strip in the 1990s.
"It was simultaneously terrifying and liberating to read," said Boyd-Kramer. "In a lot of ways, it normalized how complicated but amazing and political queer life could be."
This is the third year that her work, "Fun Home: A Family Tragicomic" has been a part of the Freshman Studies curriculum. Therefore, the classes of 2015, 2016 and 2017 were well aware of her work. This resulted in a large crowd and strong engagement at Bechdel's Convocation.
After teaching "Fun Home" as part of Freshman Studies, Boyd Kramer described why it is now a staple of the curriculum. "'Fun Home' has everything a great work should have," Boyd-Kramer said. "Incredible skill in storytelling, themes people can relate to, plenty of sexuality, strong characters and a lot of fodder for discussion, which makes it especially great for Freshman Studies."
In her Convocation, Bechdel discussed the unique combination of words and images that make up cartoons, specifically comparing them to "maps." Bechdel illustrated in her speech that cartoons "distill the chaotic three-dimensional world and also the passage of time into a layer of pictures and a layer of words."
Bechdel said she has had a lifelong fascination with writing and drawing. "There's something about letters and words and drawings all together that I've just been very entranced by," she said. "I feel able to explain something through this combination of words and pictures that I can't in any other way."
Although now a graphic novelist whose work "Fun Home" has been nominated as the best book of 2006 by The New York Times, writing was not an aspiration of Bechdel's after growing up with English teacher parents.
"I never thought of myself as a writer. I knew they [my parents] wanted me to be a writer so I had to rebel against that and become a cartoonist," Bechdel laughed. "Instead of becoming an artist or a writer the way they wanted me to, I became both at once."
The move from comics to graphic memoirs was a transition Bechdel identified as literary and referential. "I realized it was a very different kind of writing than my comic strip. It was actually a literary kind of writing and I had to sort of 'come out' as aspiring to be a writer."
Currently, "Fun Home" is being performed as an Off-Broadway musical, and she is considering working it into an animated series. However, after both memoirs centered around her mother and her father, Bechdel says she is going to follow her mother's wishes and "give the family a break."
"I'm going to do something not family-related for my next project," she said, "but I feel like I'm just curious about how families work as a system."
Bechdel's lifelong fascination with the relationship between images and words to portray personal family stories looks like it will not end anytime soon.
She does have a few words for budding writers and artists. "My main advice is don't take advice from anybody. If you have a thing you want to do, you will do it. Draw and write and read comics that you like and see how other people draw and write. Just do it, to quote Nike."