The Lawrence University men's soccer team (5-6-1, 3-2-0 MWC) successfully recovered from last week's funk to break their two-game losing streak. Coming off tough losses to Carroll University and Edgewood College, the Vikings traveled to Beloit College (0-10-1, 0-4-0 MWC) on Saturday, Oct. 12, where they soundly outscored the Buccaneers to earn a 4-0 Midwest Conference victory.
"Our game on Tuesday [against Edgewood] was rough because mentally we were all pretty tired, from school and other things. That was tough for us," commented senior Cooper Sinai-Yunker. By the weekend, however, the team collected themselves and hit the field focused and ready to compete.
Sophomore Santiago Alvarez put Lawrence on the board with an unassisted goal at 18:40. Alvarez's teammates believe that his goal was one of the game's best moments. "Stephen [Salansky] ran over the ball to fake a shot, and Santi took an amazing free kick," recounted Sinai-Yunker. The action then slowed until the beginning of the second half, when the Vikings struck hard early to break away.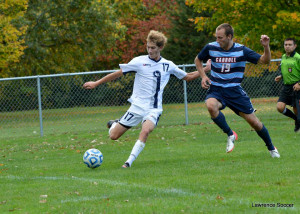 Senior Charlie Mann, assisted by freshman Michael Deremo, scored after just a minute of play to bring the score to 2-0. Less than three minutes later, freshman Chris Kiehl scored for the Vikings again, also off an assist credited to Deremo. After this initial barrage on the Beloit goal, the score remained at 3-0 until the 74th minute, when junior Stephen Salansky scored on a penalty kick to net a final score of 4-0.
Freshman goalkeeper Joe Krivit made seven saves to secure the shutout, and Lawrence took 21 shots to Beloit's 12, staying one step ahead in terms of attacks and scoring throughout the game.
"We did a good job of crushing their spirit, scoring two goals in just five minutes," said Sinai-Yunker, noting the drop in morale Beloit suffered after the opening of the second half.
"We worked it around the field really well. The movement of the ball was really good," added senior Erich Lohrmann. "This weekend was a good one. We needed it."
The team faced St. Norbert College (5-6-2, 4-1-0 MWC) on the road on Wednesday, Oct. 16, and will host UW-Oshkosh in a non-conference match at home on Saturday, Oct. 19.