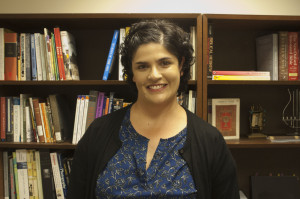 Ofra Amihay joined the Lawrence University staff just this year. As a visiting English lecturer, she teaches classes such as Literary Analysis, Contemporary Jewish-American Literature and Biblical Narratives in Literature. Originally from a small town outside of Jerusalem, Amihay is far from home. When she left Jerusalem and came to the United States eight years ago, Amihay settled at New York University as her partner, Aryeh Amihay, worked for his PhD at Princeton.
The beginning of her teaching career took place in the army, where she served as a teacher for just less than two years. Amihay said, "This was the first time I got to work with students individually. It gave me the experience of how, really, you can make a change through teaching and be a significant chain for students in the grand process of learning."
After her time in the army, she found herself in Ottawa, Canada. When visiting a national gallery, she discovered an exhibition by Duane Michals representing the poems of Walt Whitman through photographs. The combination of text and images has served to shape her research. "I felt like I had finally found the form of art that captured me. To me, it was just a life-changing experience," Amihay reflected.
Even before arriving in Ottawa, text-image relations already had a special place in Amihay's heart. Her master thesis was on the work of Maurice Sendak, an American children's book author and illustrator. From there, her interest has only grown. A physical representation of this can be seen in her collection of children's picture books. She now has over 400 in English, Hebrew, German, Dutch and Spanish. Jokingly, Amihay added, "it's always amusing to purchase those books, when the seller asks, 'What age are you looking for?' And the answer is 32."
This interest can be traced back to when Amihay was a child. Much like herself, her father used to go abroad often, always returning with books from different cultures. One of Amihay's favorites was "In The Night Kitchen" by Maurice Sendak. Originally in English, her father transcribed it into Hebrew and read his revised version to her night after night. "I knew the story by heart, so discovering the book was in English and did not have the words that I knew was a shocker! At the same time, there was something really beautiful about this experience, realizing the book was a tailored translation."
This also may have been the beginning of Amihay's affinity for language. A native Hebrew speaker, she also speaks English fluently and reads German, Spanish and French. These languages come in handy when Amihay is globe-trotting, which is one of her main hobbies. "From a very early age I really loved urban experiences," Amihay comments, listing the places she's been, such as Vienna, Berlin and Zagreb.  "Compared to people who travel to exotic places like Africa and India, I always feel like I'm such a bourgeois traveler," Amihay admits, abashedly. However, she feels at this point in her life she can take pride in urban traveling and the art of "blending into a new city for a while."
Amihay has always been good at creating her own place. The best example of this is within her own name. When she and her partner started their joint life together, they both took a new name, 'Amihay,' which literally translates to 'my people is alive.' "The reason that we chose it, however, was not it's meaning, but actually because it was the name of a great Israeli poet and we met at a night in his honor."
Amihay encourages Lawrence students to create their own present, as well. "Ask yourself what you want and see how you can get closer to it, just be designing your own present no matter where you find yourself," she says. "Really try to learn as much as you can from anyone you encounter in college."
As a final piece of advice, Amihay warns against the "tyranny of cool," a phrase quoted from Jonathan Franzen. "Let go a little bit of that 'cool' attitude that we're all required to comply to. Don't be afraid to be invested, because the only way to really enjoy this discourse is to be a part of it and not stand aloof." So, while Amihay is still here, stop standing aloof! Sign up for her classes and learn more about what she calls "making your own kingdom."