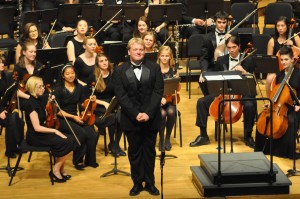 The Metropolitan Opera National Council Auditions are designed for fledgling opera singers with promise in the field. The program is designed to give them encouragement and valuable feedback on their voices. On Saturday, Oct. 19, Lawrence University senior and voice performance major Ian Koziara advanced to the next round of the competition with four other vocalists from the Upper Midwest Region. He was one of 36 singers competing for the coveted spots, and one of only two 21-year olds, the youngest age allowed in the Auditions. Most of Ian's fellow competitors were significantly older, with masters degrees or even doctorates. But he did not enter this competition with the intent to win.
"The whole goal that Teresa Seidl, my studio teacher, set for me was to go there and get some comments from people who are really in the business. We don't have any professional companies nearby, so we don't often get to hear feedback from those who are […] hiring people." Koziara has maintained a level head when it comes to his chances in the competition. "The odds are against me for advancing. I'm quite young, so there's no reason a judge couldn't say, 'he's excellent, but this guy has only one more year, so let's advance him.' There are so many things that are out of my control in how the judging happens, all I control is how well I sing." With his advancement, Koziara received a prize of 2,000 dollars and a chance to compete at the Upper Midwest Auditions in St. Paul, Minnesota on Feb. 1.
Despite his prowess and success, Koziara did not always want to be an opera singer. "I found opera pretty tedious for most of my time growing up." He had no preference for opera, but simply enjoyed beautiful music, no matter what form it came in. He honed his voice with a vast variety of musical genres. "I love singing and I've always done that and I've always wanted to do that, and I have always loved singing beautiful music." Music has always been a part of his life and something that he wanted to associate closely with. "When people ask, 'what do you want to do when you grow up?' my answer is always 'I want a career in music.'" The National Council Auditions expose Koziara to the opera world and give him a step up with invaluable advice from major figures in the field. Being quite young, this experience gives him an advantage over other professional opera hopefuls and time to adjust his voice according to the reviews he receives from the judges. "I was surprised that it was all very positive," Koziara said.
For his audition, Koziara had to prepare five arias, but he only performed two for the judges. He performed "Nothing More Than This" from Candide, by Leonard Bernstein and "Fuor del Mar" from Idomeneo, by Mozart. His stage fright was only apparent to him "Literally during the second aria of the Mozart I was shaking, but the shaking that I experience is never perceptible to the audience when I'm nervous." Nerves are common among performers, and Koziara has learned how to conquer his so that he can continue doing what he loves. "This being my first really big audition, it was nerve-wracking, but I acknowledge the fact that even the most seasoned professionals, when they get onstage, have trouble with nervousness and stage fright. It's learning how to deal with that, that is the challenge. Not eliminating it, because it's impossible." As to his next performance on Feb. 1, Koziara says he's not nervous. He's doing what he loves.