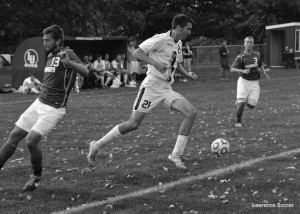 Lawrence University's home field, Whiting Field West, saw its fair share of action last weekend. The men's soccer team (7-9-1, 5-4-0 MWC) hosted back-to-back Midwest Conference matches, falling 2-1 to Grinnell College (7-10-0, 5-4-0 MWC) on Saturday, Oct. 26, and soundly defeating Cornell College (2-15-0, 0-9-0 MWC) by a score of 3-0 on Sunday, Oct. 27.
The Vikings fell short in scoring in their first game against Grinnell. The Pioneers found the net successfully at 21:13, starting the score at 1-0. With 15 minutes left in the half, Grinnell moved faster than Lawrence's defense to notch another goal. Immediately after, the Vikings attacked with renewed vigor, moving aggressively back down the field and challenging their opponents with a promising shot off a corner kick, which was unfortunately high. At 41:12, however, Lawrence senior Erich Lohrmann ran the ball into the goal assisted by freshman Michael Deremo and senior Cooper Sinai-Yunker, finally getting LU on the scoreboard. A largely uneventful second half left the final score at 2-1 in Grinnell's favor.
"They came out with a little more enthusiasm than we did," said freshman Chris Kiehl, "but we still played decently." As the Vikings had 14 shots to Grinnell's 10 and freshman goalkeeper Joe Krivit made two saves to Grinnell's three, Lawrence kept up with the Pioneers in many respects but failed to find the net as successfully.
The next day served as the team's senior day and set the stage for a solid senior-led victory over Cornell College. Within five minutes of the game's start, Lohrmann scored his second goal of the weekend off an assist by junior Stephen Salansky. Then, seizing a rebound after a close attempt by Deremo, Lohrmann sent the ball in again to put the Vikings ahead 2-0 at 10:21. Ten minutes into the second half, Lohrmann assisted Sinai-Yunker in netting his first career goal to complete the 3-0 conference victory. Krivit made one save to secure the shutout, as opposed to Cornell's 14 saves. The Vikings dominated attacks as well, taking 26 shots to Cornell's one.
"The start of the Cornell game was a little rough," said Kiehl, "but then Erich scored right away and that lifted our spirits. As the game went on we started playing more as a team. It was really nice to see both of the seniors that were playing score, especially since it was senior day and their last home game."
Injuries have kept a lot of upperclassmen off the field this season, but the seniors have stepped up and maintained a strong presence on the team, inspiring passion and hard work in the younger members. "We're all really close," said Kiehl. "All the seniors will be missed."
The Vikings will face top-ranked Lake Forest College (11-6-0, 8-1-0 MWC) for their last game of the season on Saturday, Nov. 2.