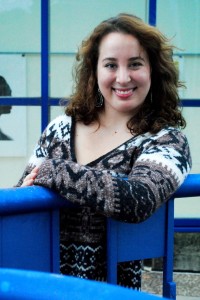 If you've ever walked down College Ave and looked into the shop "Dance!," you will have seen a window display composed and created by Lawrence University's own senior Emma Moss, featuring impressively large ballet slippers accompanied by fall leaves and trees. Moss began her time at Lawrence as a vocalist within the Conservatory, but by the middle of her sophomore year she had given in to her natural talent as a visual artist and decided to pursue a studio art major. "I think maybe I knew deep down that that was the route for me…it's always been a big interest of mine," Moss said. Her parents were not surprised when she changed her major. "Even when I was really little, the first thing I would do every morning was draw at least three pictures of ideas I had the night before," she laughed, and added, "Which were always animal oriented…I have several volumes of 'Emma's Zoo.'"
Over the past three years, Moss has created a multitude of projects in a variety of mediums. "I love a lot of different mediums," she said, "and I like to focus on different ones depending on my mood, like changing favorite colors." She has focused on digital photography, explored printmaking and is currently studying sculpture, which may result in her senior project in the Spring. Her creativity knows no bounds. She formulates elegant and large-scale works of art just as easily and quickly as she creates hilarious cartoons or comic strips.
When discussing her favorite parts of being an art major, Moss cites pulling all-nighters and giving up blood for her art as the best parts of her experience. "I've realized the projects I love most and the ones that come out best are the ones I literally bleed for. Art is a pretty physical major and I've pretty much destroyed my hands doing it!" she laughed. During her studio art introductory class, she did a self-portrait in colored pencil and wore her thumb out through all the blending and pressing from the pencil to paper. "There's a little bloodstain on it, but it's my favorite thing!"
Moss studied abroad last Fall in Florence, Italy. "I thought it would be about art but it turned into more of an intensive Renaissance art history course," she said, but added, "I did get to study at a cool art studio there, The Charles Cecil Studio, whose founder actually studied at my high school. I think Cecil definitely gave me a different way of thinking about drawing from real-life references. I think about the process a lot more [now]." Moss suggested that the study of art in Italy focuses on technique over creativity while Lawrence expects a lot more creativity from their students, which she enjoys.
After college, Moss's plans are still uncertain. She has considered graphic design but also may continue her window designing. "I see myself working within the creative field of a bigger company…I'm realizing more and more that there's actually a legitimate field of window design," she said. She will be participating in a holiday window decorating contest in the Appleton area with the store "Dance!." "I'm so excited…the theme is 'Storybook Christmas' so I've decided on The Snow Queen."
In the Spring, look out for her senior project in studio art, which she hints, "might have something to do with crazy cat ladies."