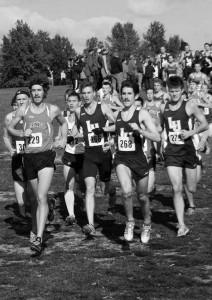 The Lawrence University men's and women's cross-country teams have a lot to celebrate. In last Saturday's Midwest Conference Championship race at Oakland Acres Golf Course, hosted by Grinnell College, the women's team scored their highest team finish since 2005, and the men's team almost halved their score from last year—the women took third place with 75 points and the men captured second with 58 points.
Showing improvement at almost every level, the same Viking women's team that came in eighth as a team last year vastly exceeded any preseason expectations. Head coach Jason Fast directs a lot of the success to offseason work: "We came in as a stronger team due to the work that we did in the offseason and even during track [last year]." He continues, "We also have an incredibly strong freshman class and that really helps any team." Sophomore Clare Bruning echoed that statement, commenting, "We've had a ton of support from freshmen this year."
Bruning led the charge for the Vikings. She finished sixth overall with her season-best time of 23:22. Also on the First Team All-Conference for Lawrence was freshman Amy Hutchings, who finished ninth overall with her time of 23:33. "Clare [Bruning] has been really coming on strong all season," notes Fast, "and to have two runners in the top ten at conference feels really sweet." Next in for the Vikings was a four-runner group that solidified the strong finish. Sophomores Cora Williams and Liz Landes came in at 24:06 and 24:10, respectively. Senior Katherine Dannecker was next for the Vikings with her time of 24:13 and filling out the four-runner pack was freshman Kristen Bischel (24:20). Williams through Bischel, finished 19th to 22nd in the race.
The men's team continued its dominance with an incredibly strong showing from the top three runners. Senior Jamie Brisbois nabbed third overall with his personal best time of 26:04. Having been ranked sixth in the Conference before the meet, Brisbois didn't wait around; he led the race for a majority of the first several miles, going against his more conservative racing style for the Conference meet. "I just found myself in front and feeling good, so I pushed the tempo early on," stated Brisbois.
Finishing right behind him in fourth was junior Kyle Dockery with a time of 26:19. Dockery was ahead of Brisbois for a while later in the race, but couldn't hang on to beat him. Sophomore Jonah Laursen also impressed, taking fifth in 26:21. Rounding out the scoring for the men's team were senior Curran Carlile and sophomore Cam Davies with times of 27:12 and 27:22, respectively.
Being one of the last races for the seniors, their team and coach were singing their praises. "[Seniors Katherine Dannecker and Anna Ratliff] have been central to our success; they've really showed their leadership," stated Bruning. "Our seniors on the women's team have been very influential in creating a competitive atmosphere this season, and I thank them for that," noted Fast. Sophomore Jonah Laursen also chimed in, "This year's seniors have been a part of the team since we started our streak [of finishing first or second in Conference since 2010]—they really offer a breadth of experience that will be missed."
Both teams are already looking forward to next year. When asked about whether or not this recent success could be called a "dynasty," Bruning said with a smile, "It's starting; we're only going to get better."