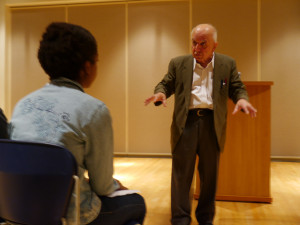 Last Saturday Nov. 2, an affirmative action panel was held in Esch-Hurvis. The event, which was hosted by the Black Student Union (BSU) , featured a lecture by Minoo Adenwalla, Professor Emeritus of Government. The panel included both a lecture on the history of affirmative action and  a discussion. Around twenty or so individuals from the Lawrence community attended, including several members of the admissions department.
The lecture itself ran for about an hour and covered famous court cases involving affirmative action, including Brown vs. The Board of Education, which concerned several school systems and state mandated segregation. In this case, the Warren court ruled through extensive judicial activism that segregated schools were unconstitutional—a major victory in the civil rights movement.
Professor Adenwalla also dealt with the affirmative action policies of the University of Michigan, which became controversial because of its 'point' system. In the application process, students have to reach a certain number of 'points' to be accepted. The case was brought to the Supreme Court, at that time under Judge William Rehnquist, and Sandra Day O'Connor wrote the opinion of the ruling: The points system was implemented to achieve the goal of racial diversity at the university, and not to reach a 'quota' of minority students—in this case, particularly African-Americans.
After the lecture concluded, those who attended engaged in a group discussion about affirmative action policies. Among the topics discussed, a controversial question was asked: Do affirmative action policies lower the standards of schools? A professor who attended answered the question by taking into consideration the quality education that students are receiving in predominantly black neighborhoods. She discussed how the sub-par education in public schools in New York leaves students in those areas at a disadvantage.
"I'm from New York, and I believe that in some cases the standards are lowered," she said. "It has nothing to do with intelligence. In some areas of New York, especially in the public school system, African-Americans and Latinos are not getting as good of an education as other students in different parts of the city."
Several members of the Lawrence admissions department attended the discussion, which shed light on how Lawrence admits its own students. During the discussion, one member of the admissions team debunked the idea that affirmative action involves decision making at the margin when race is the only distinguishing factor between two applicants.
"In higher education, it never comes down to two people with the exact same experience and choosing one based on their race," she said. "It just doesn't happen that way."
In her opinion, this refuted the idea that affirmative action is a form of reverse discrimination. When asked, she also made a point that there are no quotas for a certain number of students of one ethnicity. Rather, Lawrence's goal is to be as diverse as possible.
However, as Professor Adenwalla mentioned during the discussion, there was a time when Lawrence did practice outright affirmative action policies. He cites a time during the 1950s when Lawrence made an active effort to try and enroll as many African-American students as possible—a jump from two African-American students to forty or fifty.
"Many of the students came from Chicago, from tough backgrounds," Professor Adenwalla said. "The vast majority of them could not compete with other students."
The program was unsuccessful because the African-American students were coming from impoverished neighborhoods where their sub-par access to education and culture shock lead to an unsuccessful experience at Lawrence. After that experiment failed, the Lawrence admissions policies shifted toward the policy in place today—a consideration of a variety of factors including economic background.
According to Lawrence's website, the mission of the BSU is "to educate and bring awareness to Black Americans, the greater community and anyone who is interested in or identifies with the culture, heritage, struggles and issues related to Black Americans in the 21st century. Our Union also seeks to establish and foster a strong community amongst Black Americans, who may feel a lack of support, through access to resources, social connections, service projects and various community engagement activities." For more information about the BSU, please contact Denissa Whyte at denissa.m.whyte@lawrence.edu or Julian Washington at julian.s.washington@lawrence.edu.