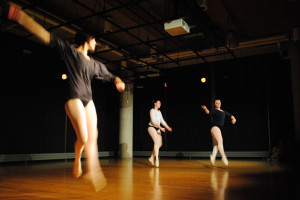 On the evening of Friday, Nov. 8, Lawrence University's dance troupe Melee, along with Lawrence Swing Dance, Danza Mexica and Massive Movement, performed six different dances over a brief but highly kinetic session previewing what student dancers have been working on this fall. These dances demonstrated great diversity of style and choreographic creativity.
Melee states that their fundamental mission is "to enrich the Lawrence community by providing a creative and friendly atmosphere for dancers, choreographers and other dance artists to collaborate to learn more about the art form and to create engaging performances."
The first of the dances was a contemporary piece using the song "F.U.Y.A" by French turntable group C2C. This was choreographed by junior Adriane Melchert, who performed alongside senior Vicky Jhong Chung and freshmen Alanna Rieser and Gabriella Vanlaarhoven.
"I love this style of dancing because it lacks parameters," said Jhong Chung. "There is no strict rule that says how to dance or choreograph a piece like this."
Next was a more intimate performance between seniors Phillip Jindra and Sara Johnson, who spun a charming narrative of courtship while swinging to the tune of "Dance With Me Tonight" by Ollys Murs.
Third was a dreamy sort of dance choreographed to "Heavy in Your Arms" by Florence + the Machine. This performance, choreographed by junior Sari Hoffman-Dachelet, featured dancers freshmen Taylor Gardner, Kathy Yan Li and Tomoyo Nejime, as well as Jhong Chung.
"I like dancing because it makes me happy," explained Jhong Chung. "It gives me the freedom to express myself through my body. It's a different way of communication. People are just used to chat or text but they forget that there are so many other ways to communicate with others." Fourth on the list was an electro-pop dance choreographed with moves from classical ballet by Melchert using the song "Heavyweight Champion" by Big Gigantic. Dancers involved were Melchert herself, senior Madeline Bunke and freshmen Paige Owen and Jori Warwick.
The fifth performance was a unique traditional "danza mexica" by sophomore Zabdiel Ek-Vazquez. Entitled "Huitzilopochtli," or "Hummingbird of the Left," Ek-Vazquez relies on grace and precision of movement without the added advantage of catchy music—the only sounds came from the stomping of his feet and his attached noisemakers.
"Each movement depicts a certain constellation, arithmetic or philosophical question and answer," Ek-Vazquez explained, "and the connection of these to time and to organic growth. Danza helps generate creative thought, open-mindedness and a motivation to pursue the truth."
Lastly, Massive Movement performed a dance choreographed by sophomore Kenneth Herrera to "Feedback" by Janet Jackson. A large group effort, Massive Movement offered an explosive conclusion to the short preview show.
"I like how dance excites people," said Herrera. "We as dancers entertain and perform for both ourselves and the audience. Dance is important simply because it's hard to escape. Dance is everywhere and everything."
The turnout was phenomenal. The seating in Esch-Hurvis Studio overflowed with students while many stood or sat in front. Dance may be defined as a rigorous exercise in creating a flowing sense of unity by way of physical movement. In exerting large amounts of focus and power, the dancer uses his or her body to create an elegant and beautiful performance. With such a turnout for a mere preview, one expects further support for these dancers in continuing to hone their artistry.