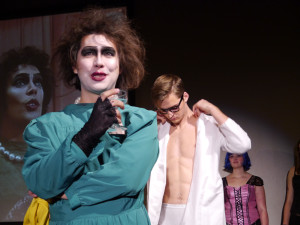 Lawrence's "The Rocky Horror Picture Show" took place on Friday, Nov. 8 and Saturday, Nov. 10, continuing the tradition of its annual performance.
"The Rocky Horror Picture Show" has been put on around the time of Halloween since at least 2003, according to senior Bryan McManus, who co-directed the show with fellow senior Alysa Levi D'Ancona this year.
The show ran for two nights and was called a success by both Levi D'Ancona and McManus. While the audiences only saw the final product, the entire production took a month and a half of casting, rehearsals and set up.
"The Rocky Horror Picture Show" is a movie that was made in the 1970s and stars well-known Hollywood names like Susan Sarandon and Tim Curry. At Lawrence, the movie is played with a shadow cast acting out the movie while it plays behind them.
Back in September, Levi D'Ancona and McManus began casting the show for a live performance. Most of the students who auditioned had never seen the movie, much less seen a live production of the show. "We knew that the students who auditioned wouldn't get everything right, but we cast the show based on who had the right energy," Levi D'Ancona said. The cast ended up totaling to 15 actors.
The next month was filled with rehearsals and the cast familiarizing themselves with the movie. "We had all our actors watch the movie a lot so each actor knew where everyone was going at every point in the movie," McManus said. Levi D'Ancona also said that it was important that the show be cohesive and match up almost exactly to the movie.
By the end of the rehearsal process, the actors added their own personal quirks to their characters. "[Freshmen] Stefany Dominguez, who played Magenta, and Ridley Tankersley, who played Riff Raff, had their own weird chemistry that wasn't in the movie, but they added it in and it worked really well," Levi D'Ancona said.
Another important part of the live Rocky Horror experience is the call lines. The call lines are scripted bits yelled out by other members of the cast. These calls are usually aimed at making fun of the movie and the actors. Many of these lines are considered "classic," according to McManus, but some new ones were added to keep with present-day pop culture.
The day of the performance, the amount of preparation totaled to over two hours for hair, makeup, costumes and set up. The level of participation at each show varied, causing each show to be different from the others. "There was definitely more participation on Saturday night because the crowd seemed to know the movie better," freshman Sarah Lawhun said.