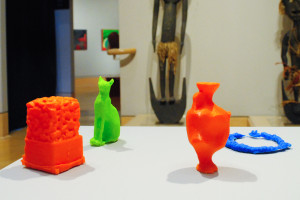 Friday, Jan. 17, the Wriston Art Gallery will open their new set galleries. The opening will begin with a lecture by artist Sandra Dyas, whose show "My Eyes Are Not Shut" will be held in the Kohler Gallery in Wriston with a reception to follow.
Dyas, a freelance photographer and lecturer in the Art & Art History Department at Cornell College in Mt. Vernon, Iowa, will present a show featuring photography and media. "[I'm] drawn to people and environments and especially light. My camera is a way of recording life as I see it. I strive to create a collaborative and authentic portrait of the ever-changing, strange and beautiful world we live in. [My] book is a collection of people, places and things I want to hold on to and remember," said Dyas.
The Hoffmaster Gallery will be showcasing Leslie Smith III's exhibition "Opposing Dysfunction." Smith is Assistant Professor of Drawing and Painting in the Art Department at UW-Madison. The exhibition will feature eight of his paintings and four of his drawings from 2011-12. "Leslie Smith's studio practice is concentrated around utilizing abstraction to communicate the nuance and poetics of the human experience. Smith's interest lies in representing juxtaposing and contradictory truths found in how we relate to each other as beings influenced by both positive and negative aspects of society. "Opposing Dysfunction" is a collection of transitional paintings and drawings primarily from 2011. These paintings chronicle an important shift in Smith's narrative and aesthetic," says Smith's artist statement.
And finally, the Leech gallery will feature a student-curated exhibit called "Out of Place: The Obsolescence of Artifacts." This exhibition was curated by the art history department's own "Art of Stuff" class. "The class was based around 'thing theory' and how things relate to art, how all things are viewed contextually, whether it's where it's located or what it's made of," said sophomore Abby Kosberg. "Each student chose a 3D artifact from the Wriston collection that spoke to us, and then had it 3D printed, seeing if turning these artifacts into plastic would change its value, which it did. Thus, this Gallery is hoping to show how seeing the artifact in its original setting is the only true way to experience it, showing how by putting them in a gallery we render them obsolete." The gallery will feature the original artifacts and the 3D printed versions, which can be picked up and compared to their originals.
The gallery opening will start Friday, Jan. 17 at 6:00 p.m. with free admission and refreshments, a wide variety of topics plus a truly interesting student-curated experience in the Leech gallery. This is sure to be an event not to be missed. All three galleries will be open until March 16.