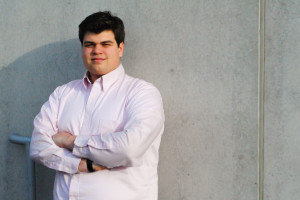 Brass instruments are capable of producing a uniquely grand and epic sort of sound, inimitable by any other musical instrument. A key example of a brass instrument is the horn, commonly, though incorrectly, known as the French horn. Lawrence's very own senior Dakota Williams offers a chance for students to come and listen to this instrument with his senior recital on Sunday, Jan. 19 at 1:00 p.m. in Harper Hall.
"I've always been a musical person, walking around and singing and stuff," Williams said. "But in fifth grade my school started both choir and band and they had high schoolers come in and play. After that I just begged my mother to let me play. Eventually she let me play even though I played a really expensive instrument."
Originally, Williams wanted to play the oboe, but he found the look of the horn aesthetically pleasing. He listened to recordings of professional horn players and thought the sound was golden in a way unlike any other brass instrument.
"The sound is warm and dark," he explained. "It's also the only instrument that plays so high in its range. The horn can play lower than the trombone can, but we play an octave higher than they do, just because people like the sound of it."
Lawrence appealed to Williams for its dual merit as both a music conservatory and an academic institution. He considers himself "an academic at heart." His penchant for study led him on a music history-heavy path and he will graduate with around eleven music history courses under his belt. He plans to pursue music history in grad school, perhaps after taking a gap year or so to save money, organize his life and gain solid footing after his time at Lawrence. He is looking into getting involved in a music non-profit organization or community orchestra to work as a music librarian, an occupation he feels well-suited for given the amount of time he has worked at the Seeley G. Mudd Library over his years at Lawrence.
Regarding his influences and musical preferences, Williams describes himself as a "diehard romantic." He enjoys 19th century German, British and French music, but also highly regards brass-heavy movie scores.
"The scores to the Star Wars movies and the Lord of the Rings trilogy are amazing. They're two of the best scores in the history of anything. But pretty much anything John Williams I like. The score to the third Harry Potter movie. Jurassic Park, obviously…"
For his recital, a component of his horn performance degree, Williams will be playing a large romantic concerto, a "very strange, unaccompanied, incredibly chromatic" elegy depicting stages of grief—which he considers "unlike anything I've ever played before" and he will close with a "lighthearted and beautifully melodic" sextet for two clarinets, two bassoons and two horns by Beethoven that has not been played at Lawrence for at least a decade.
"It's a very eclectic mix, but I feel very comfortable with all my music," Williams said. "I'm really excited to convey all my musical ideas and emotions to the audience."
Williams credits his entire studio for their support, genuine compliments and criticisms that have honed his skills as a musician.