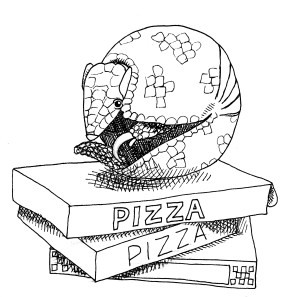 Armed with computers, good company, and caffeinated or alcoholic beverages, students assemble together with their teams to The Great Midwest Trivia Competition. Held annually since 1966, teams of students on campus and other participants tuning into Lawrence's radio station listen to the questions, which they will have three minutes to complete. Teams on campus also have the option to participate in action questions that ask them to complete various quirky tasks, such as "gather the most human hair." While it's great that students collaborate excitedly in this unique Lawrence experience, health and responsibilities are sacrificed over this weekend and participating should be approached with more moderation.
To say that trivia competitors are eager to participate would be a massive understatement when looking at their methods of preparation. Throughout campus, rooms are rented in order for a team to gather for the duration of the event. Snacks, extension cords and power strips are brought along to plug in Best Buy-sized displays of laptops and electronic devices. Many teams apply speakers to the rooms in order to hear the radio station more clearly. Teams have even created collections of thrift store clothes in case action questions prompt them to dress in costume. Showing pride for their team, some groups make t-shirts and have gotten sponsored to help pay for the costs.
The amount of effort competing teams put into a trivia contest is difficult to understand for those who do not choose to participate.
There is a passion about the way many students approach the competition. Val Neff, a super-senior who has played on "David and the Bell's" since her freshman year, spends as many hours playing trivia as she can stay awake. When asked why she feels motivated to sacrifice sleep in order to play, she responded, "I love the questions that come up while playing the game. There is a feeding of energy and passion in the people who participate."
The atmosphere of several students working together to either call, find an answer or brainstorm for the current action question calls to academically vigorous students found in Lawrence's liberal arts setting who love learning.
The model of competition might be compared to a fifty hour athletic match. Jam teams, similar to defensive units, prevent other teams from scoring by controlling the phone lines, while teammates collaborate to score points. The teamwork involved in trivia is a great way to build relationships, but the extremity of over indulging in a trivial competition impedes studies and other individual responsibilities.
Over trivia weekend, students still have responsibilities to uphold. The level and dedication in which many participate is unhealthy. The teamwork put into preparation is exciting, but the setup of the rooms is built around camping out, and shutting out other activities and obligations. Concerts frequently occur over trivia weekend, this year being no exception as the Conservatory's Wind Ensemble and Symphonic Band perform in the chapel on Saturday. Musicians attending a dress rehearsal and concert should be getting extra sleep the night before, if possible, not spending an abundant amount of time encased in a room answering random questions rather than committing to activities with more long-term goals in mind.
With the rigorous nature of a Lawrence student's course load, staying up for the duration of the fifty-hour-long trivia competition is crazy. Walking past trivia competitors at dinner or competing alongside their team, they move sluggishly, taking on the lack of expression of a zombie. When having the ability to get rest, no student should subject themselves to willful sleep deprivation. It is negligent to academic studies to stay up all night answering a marathon of questions that do not apply to them when it would be more beneficial to find a healthy balance of sleep.
Students dread staying up late to work on an essay or test to find the answers they need to finish their schoolwork, but consciously put trivia over their health and mental sanity to win points for their team for the sake of competition. Approaching the contest this way weakens students' immune systems and sets them up for a week of stress due to their lack of energy to complete class work and daily activities.
Witnessing at least a few hours of the competition is an experience students should not deprive themselves of, as it is essential to the Lawrence experience, but is not worth sacrificing an entire weekend for. Getting a reasonable amount of sleep allows students to have the energy to make the most of their time participating and perhaps have the energy to be more physically and mentally present in their time engaging in trivia, providing more vivid memories than if they were to force their eyes open the last twelve hours of participation. Given the time, I recommend embracing trivia, but only in moderation. Die-hard trivia players may disagree, but playing trivia for nearly all fifty hours is unreasonable.