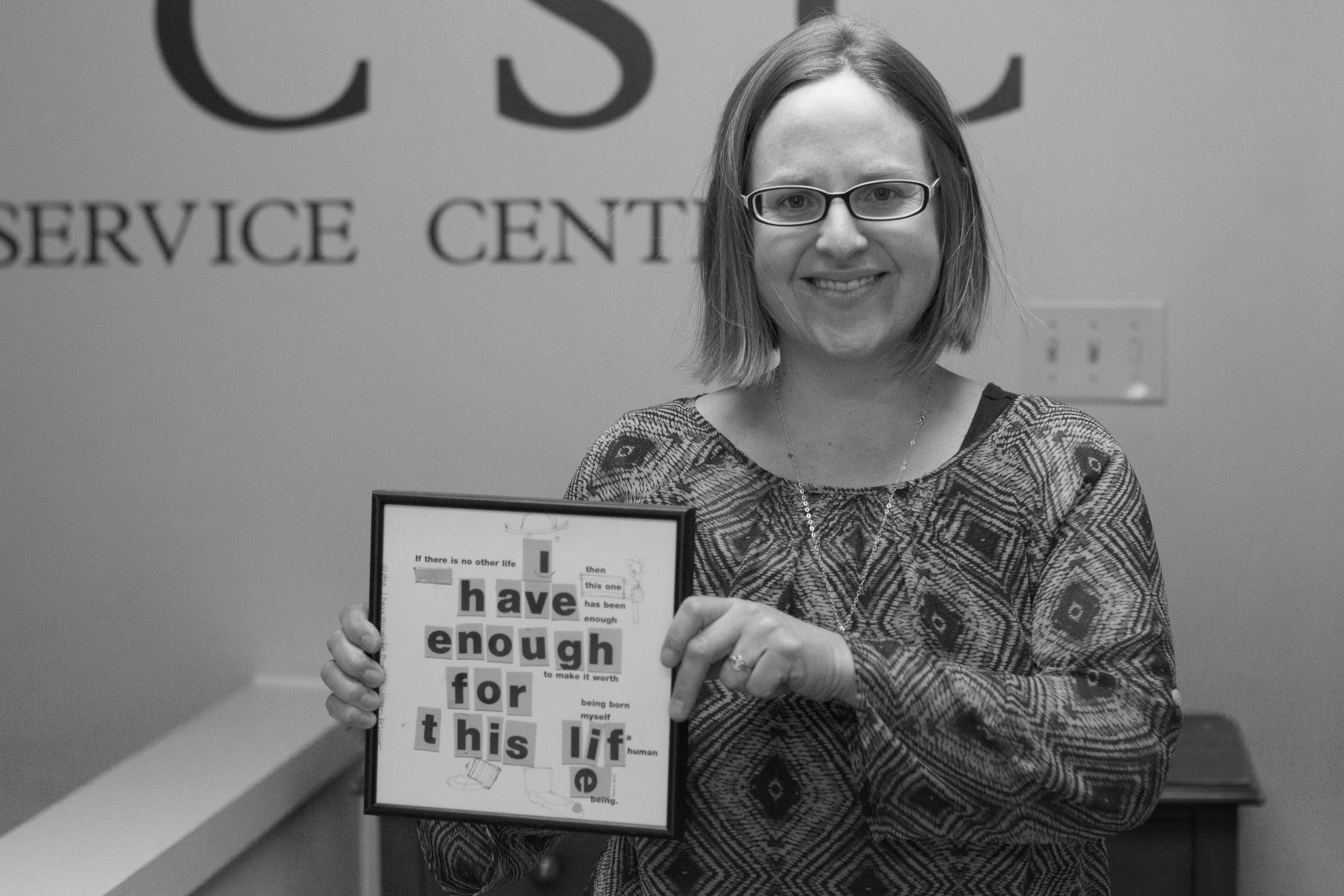 As director of the Volunteer and Community Service center (VCSC), Kristi Hill's has centered her life around helping others and has been extending her services to her community as long as she can remember. Hailing from Appleton, Hill is familiar with the needs of the community as a whole and has been coordinating the volunteer opportunities available on our campus since 2007.
Hill says she had always known that she wanted to pursue a career choice that helped people and grew up with a sensitivity to her community, which happened to be a very neighborly one. She got more involved in volunteering when she was in college at the University of Wisconsin-Green Bay, where she double-majored in recreational management and human development.
When asked what ignited her passion for helping and contributing to her community, Hill replied, "While in college, I worked at the local domestic abuse center for women and children and learned through the children's social interactions with other kids that they lacked social skills due to negligence and I was blown away by their hardships and how they somehow were still expected to function in the everyday setting, like school, and lacked the attention and skills needed to do so. Watching innocent kids that did nothing wrong in the world, but had to go through horrific situations and had to survive using minimal resources, that definitely got me."
After earning her bachelor's degree at UW-Green Bay, she got a job as a camp director, serving disadvantaged youth from Milwaukee, Wis. This was a job she loved but didn't quite feel she was adequately prepared for in terms of helping them in the way they needed. So, she went on to other nonprofit organizations like the Boys' and Girls' club and YMCAs, where she discovered that she wanted to delve into helping people in the "therapy sense,"so she pursued a graduate degree in counseling.
When deciding where she finally wanted to establish herself and with whom she wanted to work, Hill said she realized that her "happiest moments in life [were] in college, where I dedicated my time helping others." Working on the Lawrence campus, she says, allows her to combine her interests in community development and counseling and also share with others the love for the community.
Hill, besides helping her community, enjoys skiing, snowshoeing and loves the outdoors. It wouldn't be odd to find her strolling through the woods. She is a "coffee-shop and laptop" person and loves to network with people and even engage in conversations with complete strangers. However, maintaining the title of best friend with her three-year-old son takes up the majority of her time, and since she is family oriented, she loves to connect with her family, as well.
Hill lives by the idea of simplification and says she used to be a minimalist and believes in "having just what you need, otherwise our priorities focus only on how many things we think we need, but in reality just want." She responded by saying, "I believe that everybody should spend some of their income helping others."
"If I had a chance for a superpower," she said, " I [would] restore and ensure the basic human rights of everyone."
With the warmth and enthusiasm Hill shares with her colleagues and volunteers, she has infused her passion for giving back to the community into the Lawrence campus. We are definitely inspired by her dedication and kindness and the wonderful opportunities she has linked us to.