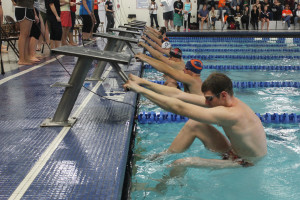 The Viking swim team competed this past Saturday, Jan. 18 at Lawrence's own Boldt Natatorium in a triangular meet against Lake Forest and Carroll. Although both the men and women's teams lost in total points to the Foresters and the Pioneers, the Vikings feel the meet went favorably, as almost every single Viking either matched or beat their best time this season. Lake Forest won the meet by defeating Lawrence and Carroll in both the men's and women's competitions.
It was an emotional weekend for the Vikings, as Saturday's meet was the final time the seniors would be competing at home. "A lot of the seniors were really sad that this was the last home meet," recounts sophomore Grant Wilkie. "They all wanted to go out on a good note." The Vikings were definitely content as many swimmers placed well and many personal records were broken. On the women's side, senior Hannah Gabriel won the 200-yard freestyle with a time of 2:01.18. Junior Taylor Winter also had a big day by winning the 500 freestyle in 5:23.91, while sophomore Haley Cardinal took first in the 100 breaststroke, finishing in 1:10.17. Freshman Paige Witter had a successful day, as well, and showed lots of potential in winning the 100-yard  butterfly in 1:01.68 and taking second in the 200-yard freestyle in 2:01.44, just barely edged out of first by her teammate Gabriel.
Lawrence also possessed several top finishers on the men's side. Senior Charlie Mann was able to grab second in the 50-yard freestyle in a time of 22.79. Junior Stephen Salansky also took second in the 200 individual medley in 2:16.37. Wilkie placed second as well in the 200 freestyle with a time of 1:57.76. The 200-yard freestyle relay team consisting of Wilkie, freshmen Christian Bell and Josh Ladwig, and senior Pat Vincent managed to take third place in a time of 1:33.08.
After completing their last home meet, the Vikings look forward to an intense week of practice before beginning to taper in their training for the big Midwest Conference meet. "We still have a meet and a couple of hard practices left before Conference," said Wilke. "We'll be doing our best to stay focused and motivated. It's like 'Finding Nemo,' we just keep on swimming." The Vikings' next meet will be this Saturday, Jan. 25, at the Wisconsin Private College Championships, where they hope to compete well one more time before truly preparing for the Midwest Conference meet.