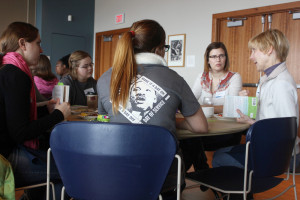 On Martin Luther King, Jr. Day, the Volunteer and Community Service Center (VCSC) sponsored a discussion of the book "This I Believe," a collection of personal essays on the topic of beliefs edited by Jay Allison, Dan Gediman, John Gregory and Viki Merrick. Students, faculty and staff talked about religious divides on campus, among other topics. Later, a celebration in honor of Martin Luther King, Jr. was held in Memorial Chapel.
Sophomore Emma Micinski enjoyed the discussion.  She said, "Hearing someone else's ideas can really influence your own and bring about your own ideas."  She believes that "learning from others is one of the most important things that we have to do."
"My group was really focusing on truth and how that can affect our beliefs," said junior Brienne Colston.
Colston also said her group had an excellent, non-judgmental conversation about religion.
Junior Vincent Tran's group discussed topics such as religious beliefs, spirituality, religion, science, and discrimination and how it affects the Lawrence community. Tran admitted that these topics are sensitive and people usually tend to shy away from them, but he said, "In the discussion, people were very open to new ideas and listening to other people."
Sophomore Jaime Gonzalez agreed that the discussion was helpful for practicing listening to other people's perspectives. Moreover, working for the VCSC, Gonzalez believes this is a great opportunity for people to get involved with volunteer work after the discussion.
Sophomores Sarah Bonoff and Abigail LaBrant, who both work at the VCSC, believe that this discussion occurred in "an open, safe environment where students, staff and faculty can feel comfortable expressing their beliefs and we can work towards understanding and respect on campus."
According to Bonoff and LaBrant, the success of last year's book discussion is one reason to continue the tradition. Bonoff said, "President Burstein also mentioned in his convocation address that many religious students don't feel comfortable or feel discriminated against on campus."
Bonoff continued, "The book discussion offers a chance to better understand the people we interact with all the time, but maybe do not know so much about." She hopes the discussion can open a doorway for students to feel comfortable expressing their beliefs on campus and will help Lawrence to become a welcoming and accepting community.
The MLK Day Celebration was held in the evening in the chapel. The keynote speaker was Margaret Rozga, who is a poet, playwright and Professor Emerita of English at UW-Waukesha. Rozga gave a speech titled "Dr. King's Non-Violence, Today's Non-Violence".
Rozga said that at the heart of Dr. King's vision is an inclusive society where the dignity and worth of all human beings are respected and protected.
"Dr. King's non-violence is the key to achieve and sustain in this inclusive society," she said. "His emphasis on peace and non-violence is the way, the source of power that enables us to say, though he died […] in Memphis in 1986, he lives."