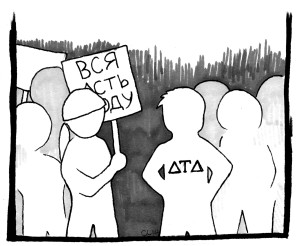 Hello, Trivia. What a great weekend. There were break-ins, rabbit deaths and voice cracks, but the 49th Great Midwest Trivia Contest undoubtedly succeeded. Big shout-out to this year's winners, Porky's Groove Machine. You guys inspire us.
Now, let's talk about that Action Question, that glorious, bombastic Communist Rally on Saturday night. You brought songs, posters, shovels, bread, chants, speeches, marches, pamphlets and Communist manly-vest-o's.
Over 60 Lawrentians took up arms against a sea of inequality to demand the redistribution of points.  As the rally's finale, and with permission from the president of Delta Tau Delta, Kelton Jenkins, we marched through the Delts' "Red, White and Blue" party.
The spirit of the rally was one of cooperation rather than competition. Teams joined together and marched as brothers and sisters, and the Delts graciously allowed us to continue our fun inside the house. The spirits of Soviet equality and American free speech filled every Delt and Trivia player.
Given the sheer size of our rally, our admittance into the house is incredible. Colin Huggins, of the Trivia Masters at the rally, feels "very warm about the way the Delts treated us." Letting 60 communists march through a crowded party had to have been a difficult decision, but we are ever thankful for the opportunity.
Unfortunately, neither Democracy nor Communism is perfect, and neither was our experience at Delt. Their shouts of "This is America!" and "Fuck Communism" and our shouts of "ШРЕК ВЛАСТЬ ГАРУДЫ" pierced the cold air equally.
As can be seen in footage documented by Garrett L. Katerzynske, the maker of "This Is Lawrence" and "The Lawrence Minute," not all Delts grew from the same accommodating mold as Mr. Jenkins. Some got pushy-shovey, even towards Mr. Katerzynske and his expensive equipment (for which we all pay $50,000 a year).
Of course, I can't blame them entirely: We did cram 60 singing and chanting communists with shovels and hammers and flags into their party. Mr. Huggins even said, "I regret not letting Delt in on the joke ahead of time."
The tradition of Trivia crashing campus events happens to have struck Delta Tau Delta twice in a row. The Trivia Masters this year decided hesitantly to crash Delt, as we did not want to target them chronically. But the "Red, White and Blue" party was an opportunity too tempting to pass up. Had any other fraternity held the same party, our throng of communists would have rallied just the same.
The traditional crash will continue next year, but hopefully at a different event or residence. As one Delt told us as the rally dispersed, "That was funny. Don't ever come back."
Thank you Delt; it was miraculously hilarious. Next year, we'll crash someone else.