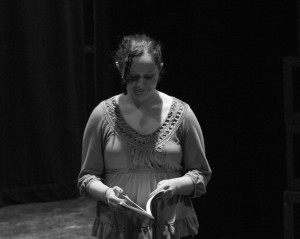 Acting is an art of deceit, but it is also an art of understanding. The actor puts herself into the character's shoes and, for the duration of the performance, becomes a different person. The amount of empathy gained from such an experience is not to be understated. Actors work and study hard to achieve this depth of emotion.
Senior Emma Brayndick has selected this pursuit as the main component of her education here at Lawrence. She offers campus a chance to see some of the skills she has gained in her senior project, David Auburn's "Fifth Planet," a half-hour play which will be performed on Friday, Feb. 7.
"I like to act partially because it gives me the chance to try and figure someone out," explained Brayndick. "How they would go throughout their world. It's interesting how people interact. Human connections and things."
Brayndick was also motivated to get involved with theater by her father, who is a playwright. All creative endeavors were encouraged in her household. She spent time around the theater a lot as a child and has always felt a connection to it.
In addition to her theatre arts major, Brayndick also has a studio art minor.
"I like finding different ways to express emotions," she said. "Personal expression is the best way to put it."
Aside from art and drama, Brayndick is the president of swing club; a member of Mortar Board; and works with the Boys & Girls Club at Badger Elementary School, which she has been involved with since her freshman year. She also loves to knit, dance, write, read and make jewelry.
"I have more interests than one person can possibly pursue at the same time!" she said.
After Lawrence, Brayndick is planning on testing the waters of the Chicago theater scene. A master's degree and a teaching certificate may also be in the future, though not immediately.
"Fifth Planet" is a story about two observatory workers and how their relationship develops over the course of a year. The play is unique in that it is composed of around forty scenes despite being half an hour long. Brayndick thought it would be interesting to try a two-person piece as a chance to really let the audience zoom in on those two characters.
"We get to see a lot in a very short amount of time," Brayndick explained. "It's a challenge because of how many scenes there are, so it's an interesting thing to figure out, how to make each part feel like a real scene even though sometimes you're hearing just two lines. Sometimes no lines."
Brayndick would like to thank her friends and family who have been wonderful support systems throughout her life.
As a final thought reflecting on her time spent at Lawrence, Brayndick commented: "I've been very appreciative. I'll have moments where I'm just like, 'Yep, this is the place I was meant to go!' And I'm really glad for that feeling. It doesn't necessarily always work that way. I'm really glad Lawrence was the play that I chose."
Don't miss Brayndick's senior project "Fifth Planet," which will be performed Friday, Feb. 8 at 8 p.m. in the Cloak Theater.