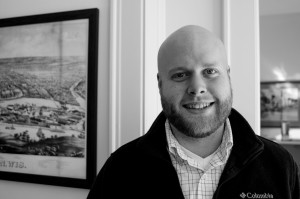 Many Lawrentians still remember him as the LUCC president, but after graduating in 2013, Jake Woodford became President Burstein's assistant. His job varies from helping prepare materials for the Board of Trustees to building a strong relationship with the Appleton community.
As a recent grad, many people are probably wondering, how did Woodford get the job? Well, according to Woodford "The job was posted in the spring (2013) and a Lawrentian graduate was preferred." Woodford was also a part of the presidential search committee. Although working for higher education wasn't always Woodford's goal after receiving a B.A. in government with a focus in U.S. domestic policy, he has grown to enjoy learning about higher education.
Before getting his job, Woodford was looking into "wealth management or graduate school." But his passion for Lawrence and his drive to make it better "resonated" in him. Woodford started working on June 24, 2013, about two weeks after graduating, even before the president's arrival.
Woodford had other motivations for staying at Lawrence, as well. He "grew up here, went to school here and now [is] working here." He loves his job because he likes "helping Lawrence be the best Lawrence it can be." Since starting work at the president's office, he has gained the opportunity to see Lawrence through a new lense.
"I am still learning, just at a different capacity. I've learned how much the people who work here care about Lawrence and I love to work with people who really care about Lawrence," Woodford said.
Aside from work, he has joined the Appleton Rotary, skis, does volunteer work, goes to concerts with his girlfriend, who is also a Lawrence graduate, and is getting back into playing his guitar. "[Since working] I've realized how consuming a career is," Woodford said. His weekdays consist of work and his weekends are spent recovering from work.
Woodford's biggest advice to Lawrence students is "to cherish residential life." Woodford explained, "You don't realize how time consuming doing the dishes is!"
On the other hand, work isn't so bad. He recently returned from a business trip to Princeton University to learn how they do things and work on some projects the two schools are doing together. While there, he was also able to travel to New York.
He said that the most difficult part of his job is "learning how to use the skills [you learned at Lawrence] to your advantage and having to ask if I'm doing the right things." What he enjoys the most is "the variety of my job, conversations I have, learning every day at work and different projects. I like feeling everything I do is a part of Lawrence." As Woodford continues to work at Lawrence he has grown to "love it even more than as a student" because "Lawrence gets in your blood."