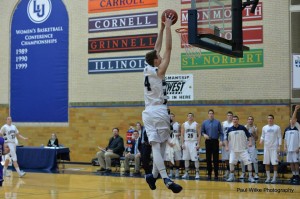 The Lawrence men's basketball team took on Knox College on Saturday, Jan. 25, hoping to continue their recent dominance in the series. The Vikings have won 20 of the last 23 meetings between the teams, including a 92-47 blowout this past December, 2013 in Galesburg, Ill.
The Vikings started the game strong, grabbing a 10-point lead within the first 10 minutes of the game. Good shooting helped the Vikings take control of the first half, with six of their first eight baskets coming from long range.
Knox fought back, though, riding a hot shooting streak to pull the game within one point with less than a minute left in the half. But the Vikings responded with another three from sophomore Troy Miller to give Lawrence a 41-37 lead at halftime. All but three of Lawrence's first half baskets came from beyond the arc. The Vikings totaled 11 three-pointers in the first half.
The game went back and forth for the first few minutes of the second half before the Vikings took control, going on a 20-6 scoring run. That run gave them a 61-43 advantage with a little more than 13 minutes remaining in the game. Knox fought back to cut the lead to 11 a few times, but that was as close as it would get. The Vikings won the game by a final score of 88-73.
The Vikings finished with 15 three-pointers and shot 54% from the field. Knox had their best shooting game of the season, also shooting 54%, but could not withstand Lawrence's barrage of three pointers.
Senior Chris Siebert led the Vikings with 22 points, including six from long range. He was followed by junior guard Ryan Depouw who tallied 21 points. Knox senior David Jones did all he could for the Prairie Fire, shooting 11 of 13 from the field with 28 points, while also pulling down nine rebounds.
Lawrence moved to 5-5 in the Midwest Conference and 7-8 overall. The Vikings are now one game behind Carroll University and Illinois College, who are tied for fourth place in conference. The top four teams advance to the conference tournament.
"We had very good ball movement and were able to get our best shooters open looks in the first half," said sophomore forward Trace Sonnleitner. "Even though we were up at halftime, we knew going into the second half that we couldn't just rely on three-pointers. So getting the ball inside was an emphasis. That and stronger defense was the key to breaking the game open." When asked about the impact this win might have, Sonnleitner responded, "It was good to get a nice team win, and hopefully this will spark a run for the rest of conference play."
The Vikings travel to Carroll University on Tuesday, Jan. 28 before returning home on Saturday, Feb. 1 to take on Monmouth at 1:00 p.m