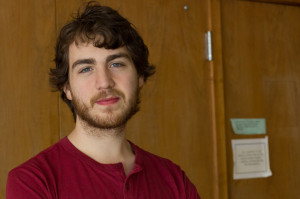 Senior Trevor Litsey never thought he would become a tuba player. "My middle school band director told me one day that I was playing the tuba and that was it," Litsey recalled, almost as if he couldn't believe it himself, yet the smile on his face revealed the excitement lying just underneath the cool.
On the cusp of his senior recital on Saturday, Feb. 22 at 8 p.m. in Harper Hall, Litsey has, over his four years at Lawrence, won the International Tuba and Euphonium Association's Mock Orchestra Audition Competition, played with the North Austrian Wind Ensemble, been chosen to participate in the National Symphony Orchestra's Summer Music Institute at the John F. Kennedy Center and taken first place at the Neale-Silva Young Artists' Competition, among other honors.
Not bad for someone who started off playing almost randomly.
Litsey's approach to tuba playing and music, though extremely dedicated, is atypical compared to his peers, "It's always been a little bit of a chore, definitely […] there's not many pieces in the tuba literature that I'm in love with," he admitted with a laugh, though the works he's chosen for his recital are clear favorites.
"I'm really excited about it," he said about what he would be playing in a few short weeks. "I'm playing some Hindemeth, some Erik Satie, some Alec Wilder, some Chris McKee. Some really fantastic pieces." The pieces he's chosen for the recital are "things I like to play" which specifically "come together in a very nice way […] and resonate in a very particular way." The tuba, often stereotyped as a loud bleating sound for comic effect or the occasional burst of noise, is rendered in Litsey's hands with the power of a thunderstorm or as tranquil as a lakeside.
As for what he plays, Litsey admitted a fondness for the latter type of sound. "I like stuff that is slow and sad. Simple. Powerful," he said, describing a desire to play music that he would want to make himself.
Litsey is a native of Birmingham, Ala., and after picking up the tuba, came to Lawrence to increase his skill in music. He plays in several ensembles with other students, playing works written by the group, be it songs or compositions, along with some improvisations, and there will be a performance on Friday, Feb. 28 in Esch.
"I like performing a lot" Lindsey said, "I have an approach as a listener. I don't necessarily think about [a piece I want to play] in how long it took to practice. I like to play things that I would like to listen to."
Despite his acclaim, Litsey is looking to expand his horizons beyond just playing music. "I'm looking at art administration jobs out east, as I want to move to D.C.," he admitted, though he has stated that he wants to keep practicing and playing. As for what that may entail, Litsey admits that even he doesn't know. We can only hope that someone with his level of skill and dedication continues to impress and rivet us with his playing for a long time to come.