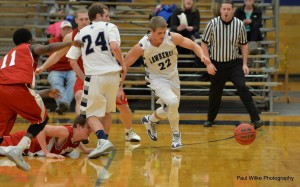 The Lawrence men's basketball team played host to Monmouth last Saturday, Feb. 1 in a crucial Midwest Conference game. Going into the matchup, the Vikings were two games behind Carroll University for fourth place in conference. The top four teams make the conference tournament.
Lawrence controlled most of the action in the first half, pulling out to an early 21-14 lead. But the Fighting Scots fought their way back to within three points with just over two minutes left in the half.
Lawrence responded by going on an 8-2 run capped off by a buzzer-beating three-pointer from junior Ryan DePouw to end the half and take a 37-28 lead. DePouw paced Lawrence's offense in the first half with his 16 points.
The lead remained at nine for the first four minutes of the second half before Lawrence took control with a 9-0 run. Senior Chris Siebert started the run with a three-pointer, which was followed by a three-point play from sophomore Jamie Nikitas. Nikitas finished the run by burying a three-pointer to give the Vikings a 51-33 lead with 13 minutes left to play. The Vikings were in control the rest of the way and didn't allow Monmouth to come within 14 points after that. Lawrence won by a final score of 67-53.
DePouw led Lawrence with 20 points in the game, finishing 4-for-5 from deep. He was followed by Jamie Nikitas, who notched a double-double with 18 points and 10 rebounds. Cole Jackson led Monmouth with 12 points. Lawrence's aggressive defense was a key to the game, casusing Monmouth to turn the ball over 20 times.
"We focused a lot on our intensity on the defensive end," commented sophomore forward Trace Sonnleitner. "We had confidence in our offense so we knew that our defense would be a key to the game."
The win moved Lawrence to 6-6 in the MWC and 8-9 overall. They remain two games behind Carroll for fourth place in conference. The victory also pushed their record at home to 6-2. When asked why they have more success at home, Sonnleitner said, "We're a lot more comfortable at home, which helps us get off to strong starts. On the road, it sometimes takes us a few minutes to get used to the gym."
The Vikings play two important conference games this week. First, they take on eighth-ranked St. Norbert at home on Wednesday, Feb. 5, before traveling to Illinois College on Saturday, Feb. 8.
Sonnleitner described the team's mentality going into the rest of the season, stating, "We are treating every conference game as a must-win game."