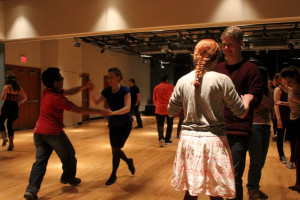 The Esch Room doubled as a dimly lit restaurant last Friday, Jan. 31. A deeply distraught woman sat next to an empty bottle of wine and stared intently into a photograph.
So began the dance between Assistant Professor of Biology Judith Humphries and sophomore Xun Mendez at Lawrence Swing Dancers' event, "Dancing with the Profs."
"The dance was based on true heartache as I was crying over a photo of James Bond," said Humphries, standing next to her husband.
Other participants included Assistant Professor of Biology Brian Piasecki, Instructor of Chinese Yu-Lin Chiu and Instructor of Music Donna DiBella.
These professors were chosen out of a larger group who volunteered for the event. After being voted on, they were paired with their student dance partners.
The annual event is a charity function where all of the proceeds go to Heifer International, an organization that gives animals to families in need, in hopes of staving off hunger and stimulating the economy.
Besides the chance to help a great cause, students attending Dancing with the Profs wanted to see their professors cut the rug.
"Judith Humphries is my biology professor. She told us [in class] that she couldn't dance well but I thought she did a really good job," said junior and swing dancer Sarah Gunby.
"People come out especially if there is a professor that they know. I think Donna DiBella was a good draw this year," said president of Swing House and senior Emma Brayndick.
Freshman Kyle Labak was similarly excited to see his Chinese professor dance. "She looks like a celebrity right now and it is the coolest thing in the world," explained Labak.
Professor Chiu, dressed in a red dress and matching Converse high-tops, recalls the practices at the end of the event.
"The practices weren't too hard but memorizing the routine was. I forgot some steps but I think I faked it pretty well so no one noticed. I really appreciate Michael Friend for working with me. "
"I was nervous and I don't think I can socialize a lot when I am nervous," said Chiu about the night, "but I appreciate this opportunity where I could practice dancing."
Later in the term, in early March, Swing Club will be hosting their next event: the Charity Ball at the History Museum castle. With a "Home from the War" theme, the proceeds from the dance will go to the United Service Organization.
"We will have a live band, people can get dressed up and there will probably be homemade fudge," said Brayndick.