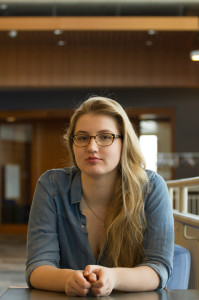 Poetry is a divisive form of writing. Some dismiss it as incomprehensible and pretentious while others regard it as a pure and sophisticated exercise in structure and emotion. Regardless of personal judgment, poetry still stands as an important way for many writers to express thoughts and feelings in a way that other forms of writing just can't pull off. It also perhaps gives the writer more versatility and freedom than other forms.
Senior Susannah Gilbert, along with a group of five fellow Lawrence students, will be demonstrating her take on the poetic form this upcoming Monday, Feb. 17 at 6:30 p.m. at Harmony Café in downtown Appleton.
"I've been writing in pretty much every conceivable way since I was really young," explained Gilbert. "My mom is a poet, so I've been encouraged and influenced to write since I was little. It just kind of became a habit and the way I process information and feelings."
Gilbert's interest in writing encompasses a good deal of her academic and extracurricular life. She is a double major in Religious Studies and English with a Creative Writing minor. Of the latter two, there was never any question. English and writing are what she had always planned on doing.
"The religious studies major I just kind of fell into," Gilbert explained. "I took Intro and just loved it. I think it's an incredible lens through which to view the world. Literature as well."
Gilbert is also co-Editor-in-Chief of Tropos, Lawrence's student literary and art magazine, the organization through which the poetry event was planned. She implores The Lawrentian readers to submit creative works such as art, photography, poetry and prose to tropos@lawrence.edu by February 22.
While it's not her preferred form of writing, Susannah still finds a lot of merit in poetry. She finds that her poetry is more personal than other forms. Reading and writing poetry has a huge impact on her prose, as well.
"There's a part of me that thinks it's a purely aesthetic thing," said Gilbert. "Words are really cool and I think poetry uses words in cool ways that other forms of writing don't necessarily get into. It also uses emotion and image in a unique way."
In terms of themes, Gilbert expressed interest in mental and physical illness, familial and romantic relationships and her connection to her cat. She admires poets like Andrea Gibson, Warsan Shire and Billy Collins.
"A lot of my writing right now is about the future, my anxiety about the future," Gilbert continued. "I'm also working on a weird-ish piece about the classical Greek myth of Cassandra, because a lot of my friends think that I am, in fact, an unheard prophet."
Gilbert's ultimate goal is to write fiction prose professionally, "whatever that is." For the first year of her post-grad life she plans to do something that will serve as writing fodder, the specifics of which will become clearer by her personal deadline of Spring Break. After that, she projects she will apply to MFA programs.
Be sure to stop by the Lawrence Student Poetry Reading at Harmony Café. Fellow student poets are junior Bryan Cebulski, sophomores Keira Elaine Jett and Hannah Klawes and freshmen Mary Malina and Allison Wray. Open mic time will be allotted after the scheduled readers.