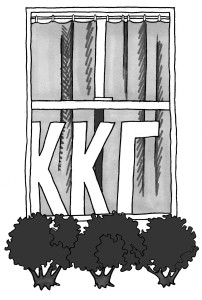 It's one of Lawrence's undying rumors: Why don't our sororities have group housing?
"From what I'd heard around campus, the reason was because years ago some really wealthy donor gave a lot of money to Lawrence on the condition that sororities don't have housing," senior Abby Guthmann said.
Another frequent speculation is that Appleton has antique housing laws that forbid a certain number of women from living in a house to prevent the formation of brothels. But while both these stories are creative, neither are true.
"The lack of clarity really perpetuates these myths," junior and Delta Gamma president Nancy Corona said. "I was surprised when I went up to Curt [Lauderdale], and asked why we don't have houses, and he said we could."
So the myths are unfounded.
"There's no restriction from Lawrence for sororities to apply for group housing," Associate Dean of Students for Campus Life Amy Uecke said.
So why don't the three sororities—Kappa Alpha Theta, Delta Gamma and Kappa Kappa Gamma—apply for housing?
"The biggest reason we don't have houses is because it's not something we want to do in our chapter right now," junior and Kappa Alpha Theta President Savannah Vogel said. "We're happy with how we function."
The fraternities on campus all have some form of group housing, but the sororities have not since the 1990s, when Kappa Alpha Theta had a house.
"I think not having a house makes our chapter stronger," Vogel said. "Some of the frats, for example, spend their meetings dealing with house issues. We get to spend our meetings focusing on our philanthropies, our sisterhood and our goals as a chapter, more than the day-to-day issues of running a house."
Housing for sororities on campus is also complicated by the two sets of rules governing sororities: Chapter bylaws and the national laws of the Panhellenic Council. At both these levels are housing-relevant rules that would influence how sorority housing could function on campus.
"The Interfraternal Conference, though they have certain guidelines, don't have as strict of rules as sororities," Vogel said. "For example, it's expected that sorority chapters take a certain distance away from freshmen women so they can make an informed decision, so we wouldn't be able to have freshmen women in a house."
Other smaller rules would influence how sorority housing would function on campus.
"Houses are all dry under the National Panhellenic Council," senior and Panhellenic Council President Maggie Brickner said. "Rules about men in the house vary per chapter and per campus. Sometimes there are certain limits about which floors they can be on at what times."
Some think sorority housing would not fit in the campus life of Lawrence.
"I did want a house on campus when I was a freshman," Corona said. "But after being at LU for a while and seeing the Lawrence climate, I realized it's nice to have that time with our sisters and nice to see sisters grow in other aspects of campus and bring that back."
Lawrence's sororities all have chapter rooms in the Panhellenic wing of Colman, and these rooms fill many of the functions of group housing.
"We recently renovated our chapter room," Corona said. "It's more like a living room for us on-campus. Having that space has really helped. There's often girls in there studying or hanging out."
This year, sorority women are living in the rooms surrounding chapter rooms, a change driven by the housing crisis. While the future of these rooms is still undecided, many sorority members enjoy the added residential factor to the Panhellenic wing.
"We wanted our space to be filled with Panhellenic women," Vogel said. "We're interested in having that continue."
Compared to the exciting myths about brothels and secret donations, the truth is simple, if disappointingly straightforward.
"The answer to everyone's question about why we don't have houses is because we choose not to," Vogel said.
Myth busted.