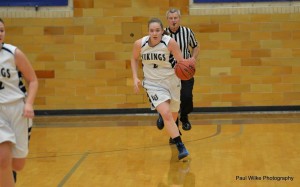 The women's basketball team made the long trip down to Jacksonville, Ill. on Saturday, Feb. 8 for their 12th Midwest Conference game of the season. The Vikings took on the Lady Blues of Illinois College, who are currently ranked fifth in the MWC. These two teams last met on Dec. 16 on the Vikings home court. Even then the Lady Blues were able to shut down the Vikings 91-54.
The Lady Blues came out strong from the get-go, hoping to walk away with their ninth conference win. Scoring the first 15 points of the game, IC appeared to be unstoppable. This scoring run was finally halted when junior Beth Hoster put up a two-point jumper.
The Lady Blues retaliated quickly, scoring another eight points to build their biggest lead of the half, 23-2. Lawrence was able to come back, however, as they finished the first half strong. Once they found their shooting touch, the Vikings outscored IC 17-8 in the final 8:31 of the half. Senior Alex Deshler put up 11 points for the Vikings during this stretch, and sophomore Andrea Wilkinson contributed an additional six points. This run by the Vikings was able to narrow the Blues' advantage to 31-19 at the end of the half.
The Vikings continued their momentum, coming out strong in the second half, scoring six consecutive points and trimming IC's lead 38-27 with 13:40 remaining. Illinois College answered that by scoring the next 17 points, putting the Vikings away for the remainder of the game.
Despite the best efforts by the Vikings, IC was able to walk away with a 62-41 win. But IC was not able to shut down Deshler, a seasoned vet for the Vikings. She contributed 15 points in the game.
With these 15 points, Deshler now has 858 for her career, placing her a mere 11 points away from passing Carrie Van Groll for 10th place on Lawrence's all-time scoring list. Deshler has four games left to play for Lawrence, so there is not a doubt she will pass Van Groll's record and possibly even place higher on the list.
The Vikings host Cornell College, another Midwest Conference competitor, on Saturday, Feb. 15 at 5 pm. The game against Cornell will be Senior Day for the team, as well, as the team will be honoring its two graduating seniors, Deshler and Amber Lisowe.