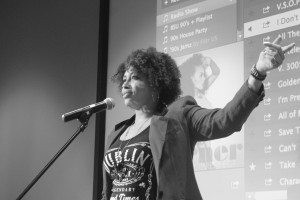 Writers at Lawrence have gathered under organizations like Tropos and the Creative Writing Club (CWC) to showcase their work and to help each other improve. While CWC does have workshops and while Tropos does hold tri-annual poetry readings, there are always more ways for writers to express and perform their work. One such way is slam poetry, a more modern form of poetic expression that seeks to capture emotional intensity through passionate speech and mannerisms.
Freshmen Mary Malina and Tierra Masupha began Slam Poetry Club (SPC) last month, thus giving Lawrence an outlet for this form of expression and performance. Their first event was an open mic night held in the cinema last Friday, Feb. 14.
"We started SPC because we were part of a slam poetry club in high school and saw it change the lives of the students who participated," explained Masupha. "We wanted that for Lawrence. We wanted to see slam poetry motivate people to inspire, connect and express."
The event incorporated Youtube videos of slam poetry from national competitions to give students examples of the form's potential. These included: A trio of students performing an anguished piece on race, class and violence; a piece on "being an alternate" by Malina; and a comical and critical piece on the sexualization of women as observed through Halloween costumes. These videos helped break up the student performances and set the evening's vibe.
As for the students, about a dozen took to the mic. They discussed various topics, including but not limited to race relations, self-worth, gender inequality, love, suicide, LGBT issues and, of course, the ever popular heartbreak. One student performed a heartfelt piece on lesbian romance, while another read from a chapbook written by her mother. Some poems were soft and sweet while others were brutal and raw. There was even some improvisational poetry and karaoke. While at first attendees were apprehensive about stepping up to the mic, things began to flow smoothly once the event found its rhythm.
In the future, SPC hopes to bring guest poets like Ise Lyfe to Lawrence and to set up similar "ground-breaking empowerment events." Malina and Masupha hope that these big events, along with semi-frequent open mic nights, will work toward accomplishing the club's goals of inspiration, connection and expression.
Outlining other general aims for the club, Masupha also stressed the importance of diversity on campus and breaking barriers between individuals. Slam poetry, due to its passionate nature and the common topics it sheds light upon, is also very much related to activism. Raising awareness then ties into SPC's goals of creating an open space for students to share and connect.
Masupha further elaborates on the difference between slam poetry and regular poetry: "Reading a poem doesn't have the same expression, life and originality. But performing a poem has expression, life and originality. Slam poetry can't be written by anyone but you. It's your thoughts, words, ideas and emotions and no one else's. Slam poetry gives the inner voice volume."
Slam Poetry Club meets every Friday night from 7:30 p.m. to 8:30 p.m. in the Diversity Center. Stop by if you'd like to get involved!