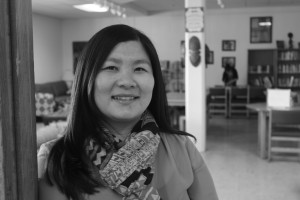 The only full-time staff member of Lawrence University's Office of Multicultural Affairs (OMA), Pa Lee Moua has been a one-woman army, providing ideas and resources on diversity, culture and different demographics to Lawrence University and the Fox Cities region for nearly five years, and it's paid off in more than one way.
Last year, if I had interviewed Moua in her office, it would have required going to the east side of the Quad along Mead Street and entering the cramped two-story building next to ORC. Now the newly furbished Diversity Center is in one of the most frequented buildings by upperclassman at Lawrence University: Memorial Hall.
So what is the job of a dean like? "Fun and never the same," Moua laughs. "So for example I spend time one-on-one with students providing personal and cultural support, run diversity training programs on campus and in [the] community. I work on MLK Day collaborations and the President's Committee on Multicultural Affairs and advise CODA, […] I speak in classrooms on Hmong culture sometimes and oversee the daily operations of Office of Multicultural Affairs, and the Diversity Center." As an aside: The Office of Multicultural Affairs is the department and the Diversity Center a physical space where events are hosted and students hang out.
Are there future plans for OMA? "Tough question," Moua pauses. "I hope that we continue to be much more visible to the Lawrence community and greater Fox cities community. I want to incorporate more programming and services that reflect the population of our students. For example, first generation and transfer students. Diversity is not just about race, but a really broad spectrum that encompasses many demographics so that all our students, faculty and staff utilize these resources to help students with personal and professional development."  She smiles. "Another full time worker would be great."
Put simply, Moua embodies her job; she has an equally diverse background. "I was born in Thailand," she says. "My family came over in 1984 when I was about five years old and settled in California." Then "we moved to Wisconsin to be closer to family and relatives." Doing so was invaluable and helped retain her native tongue. "I speak fluent Hmong, [but] I am still in the process of learning to read and write it expertly. Growing up in the United States, Hmong was never offered in high school or college."
What college was that? "I went to Fox Valley Technical College, then transferred to Lakeland College, a small liberal arts college like Lawrence. Afterwards I received my graduate degree at University of Wisconsin-Oshkosh." During this time, Moua also worked at these schools. Her degrees are in education as well as administration. Outside of school, Moua says she loves cooking. "I'm a great cook, so I encourage everyone to come to my noodle fest in April."
Disclaimer: In the final part of the interview, the writer turned up the heat to ask the one question that should be part of any "secret life" interview: What was the silliest thing Moua did in college? She pauses for only a second, "I love watermelon and I won a watermelon eating contest by consuming two whole watermelons within five minutes. Wait. Ten minutes."
If you ever want to talk with the Dean of Multicultural Affairs, you know where to find her.