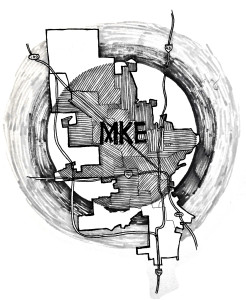 Every term when Reading Period rolls around the question arises, "Do I stay or do I go?" This term, I decided to head off campus for some much-needed rest and relaxation. Some people are in need of the hustle and bustle that comes with city life and travel on down to Chicago for a few days. Some go on day trips to surrounding national parks for some hiking or cross-country skiing. I decided to go to Milwaukee for a few days.
Now, Milwaukee runs a bad reputation. If you've ever been there on a hot summer day, you know that it smells terrible, like a wet dog cooped up in a steaming car. The smell comes from a combination of algae off of Lake Michigan and the many, many breweries that are scattered across the city. Milwaukee is also a very industrial city: When you drive around it seems as if the city is made up of factories, warehouses and machinery.
Yet, after spending a few days there, I found that Milwaukee has a lot of fun things to do, even if you just want to go there for a day trip. One of my favorite places to visit is the Milwaukee Public Market. The market is a host to a large number of venders selling artisan foods and products. It's a great place to go wander around for a few hours or just stop in for lunch.
If you're in Milwaukee over the summer, Summerfest is one of the city's greatest attractions. Known to be the world's largest music festival, Summerfest, which usually takes place at the end of June and beginning of July, is an 11-day-long event with over 1,000 performances that hundreds of thousands of people attend.
One of my favorite things to do while I'm there is go on one of the brewery tours. You don't have to be 21 to go on the tours, but you do, of course, to try the samples. The tours are an interesting way to learn about an industry that is so famous in the great state of Wisconsin that we live in.
The historic Third Ward is a great neighborhood to take a walk through when you're in the city. Without a doubt, every time I am in Milwaukee I end up there one night for dinner. There are great restaurants, bars and shops to take a look at. The Third Ward is considered the art district of Milwaukee and provides an array of interesting galleries to meander through.
Many of us on campus tend to stay in the bubble until spring or summer break draws us out into the real world. But there are lots of great places to visit around Appleton that we don't take advantage of. Milwaukee is just one of the many surrounding cities that are easily accessible and fun to visit, and next time you have a couple days off, it might be worth it to take drive on down there.