Senior Jeremy Andereck won both his singles and doubles matches last Saturday at a meet against Lake Forest College at the Lawrence University Tennis Courts. He defeated his singles opponent, Dragan Trivanovic, 6-0, 6-2. With his doubles partner, sophomore Brian DeCorte, he also helped defeat Lake Forest 8-4.
1. Why and when did you start playing tennis? My parents always encouraged me and my brothers to be active from a very early age and provided us with opportunities to play all kinds of sports – I guess Tennis is just the one that stuck with me.
2. What do you do that gets you ready for a match? Any pre-game rituals? Well I always enjoy a nice and relaxing slumber party with my team the night prior, but on game-day I like to listen to music to get me pumped. Right now that happens to be "Welcome to the Black Parade" by My Chemical Romance, "Coast is Clear" by Skrillex and Chance the Rapper, and "Got Me Some More" by North Dakota's finest Mr. Wiz Khalifa, to name a few.
3) What is you biggest accomplishment in tennis and why? Oh, it has to be our run last year. With an extremely talented and close group of guys, we ended up in the conference championship – Lawrence's best finish in decades – where we put up a good fight, but lost to Grinnell. That was a special and extremely rewarding honor
4) What are you trying to accomplish in your final season here at LU? I think more than anything I'd really just love to instill the passion for tennis, passion for each other as teammates and hard work that were instilled in me as an underclassmen, into my teammates. Playing tennis at LU and the friendships I have formed with my teammates have been a crucial part of my education and overall experience at Lawrence and I want that and more for my teammates as well.  Other than that, I'd really love to make some noise in the conference tournament!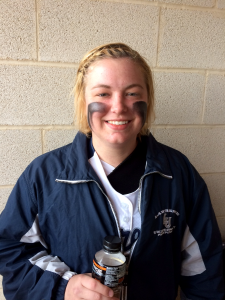 Junior Amanda Jaskolski is new to the softball team, being a transfer, but she did not miss a beat. She is currently leading the team in at bats, runs, hits, runs batted in and total bases she has reached. Her batting average is .425 and has a field percentage of .959. Although the season has just started, we can all expect great things from Jaskolski this season.
1) What is the hardest part about joining the LU Softball Team? The hardest part about joining the LU Softball Team was coming back from a season off of being red shirted for medical health issues and being unsure about the transfer. Without the help and support of not only my family and friends but also my new teammates and coaches the transition would not have been possible. My teammates and coaches really take the "hard" part of joining a new team and school and make it practically non-existent.
2) What were you most excited about when you came to Lawrence? When I decided to attend Lawrence and play softball I was excited about being closer to home. Being that I have a large amount of family members that live in Northern Wisconsin, playing softball and attending schools in the South were hard because my support system was at home. I am thankful for the opportunities I was given to play in the South, but being closer to home and having my family at my games is going to be an exciting thing for me now.
3) How did you start playing softball? I started playing softball somewhere around age 12, I played baseball until then. Growing up with two older brothers that both played baseball,l I fell in love with the sport at an early age. Coming from a small town, little league baseball was established long before our little league softball program was even thought of. So the transition from baseball to softball was not one I particularly liked. To me the rules, tempo, and overall excitement of softball were much different from baseball at the time. As I got older, softball started to grow on me. Once I started getting into travel teams from out of town, my love for the sport took off. Ever since then, softball has practically been my life, from freshman year of high school and continuing through college.