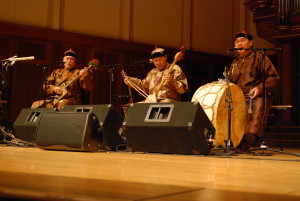 Lawrence hosted the annual meeting of the Midwest Chapter of the Society for Ethnomusicology (MIDSEM) this past weekend, Friday, Apr. 4 through Sunday, Apr. 6. The conference was held mainly in the Music-Drama Center and WCC, and included world music workshops, academic paper presentations and panels, a keynote speaker and musical performances.
Although the Society was founded in 1955, this is the first year the conference was held at Lawrence. The location is determined by whoever is the President of the Regional Chapter, this year's President being Assistant Professor of Music Sonja Downing. Downing teaches the Ethnomusicology courses at Lawrence, an interdisciplinary field that "some people describe as the anthropology of music," said Downing.
Two Lawrentians that presented academic papers at this year's MIDSEM were fifth years Andrew Kim and Elizabeth Knutowski. Both had taken classes with Professor Downing, submitted abstracts to the conference committee and were then anonymously selected to present their papers along with 23 other people from various institutions.
Kim's paper was part of the Technology and Tradition panel, and talked about the popularity of Vocaloid, a software with sound files that can be used to create a pop song, and whether or not it can effectively represent traditional Japan. Kim worked with the Japanese students that will be performing to the cover of a Vocaloid song in Cabaret. The music video of this cover version is in a traditional Japanese setting, features traditional Japanese instruments and the vocal production technique of the singer sounds more traditional. "The tension created between this technological means of song production and the song's signification of traditional Japanese musical technique definitely relates to the whole question of how real music created through technology is," explained Kim.
Knutowksi's paper was featured in the Ecomusicology panel, and was centered around environmental awareness and activism that can be found in Taiwanese and Korean music. Knutowski got the idea for her topic from reading some of Nancy Guy's writings about the rise and lessening of pollution in a Taiwanese river, the Tamsui, and how this fluctuation in pollution was reflected in music about the river over time. Knutowski took this a bit further by focusing on "polluted waterways in particular, and how that relates to economic development, if at all."
Senior Eli Edelman presented a paper at the panel on Latin American Music, but was additionally involved in musical performances. Edelman noted, "I think a lot of the people presenting were focused on the more cultural side of ethnomusicology, like anthropological, and I was definitely more focused on the musical side—actual musical practices and demonstrations."
One such performance was by the ensemble Tambo Toké, which performed a traditional Afro-Cuban piece. Edelman studied folkloric stories and music about various deities in Cuba the past couple summers, and arranged the Patakí (folkloric story) that Tambo Toké performed. "What I did with this was go through a number of published writings of stories by Cubans and anthropologists and also used some stories that I've heard from my teachers, and put them together in a way that fit. In a way that I could then arrange music about these different deities."
On the conference as a whole Downing commented, "I'm really pleased. Most everything that I was able to see really exceeded my expectations actually. The performances were incredible."
Additionally, Downing recounted a conversation she had with the Dean of the Conservatory of Music, Brian Pertl. They both agreed that hosting the MIDSEM conference, "really connects Lawrence and puts Lawrence on the map within the field of Ethnomusicology and brings this whole field right here, [making it] accessible to the students in a way that hasn't happened before."