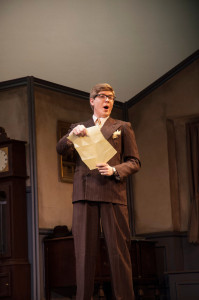 For Jon Stombres '14, voice performance and choral/general music education double major, the silly old adage "Those who cannot do, teach" holds little weight. He believes in the tandem value of doing and teaching. While it is an admirable thing to make effective use of one's skills and knowledge, it is just as admirable to be able to pass them on.
Stombres has been involved in music and voice performance via community and school shows and choirs for as long as he can remember. When he began college he realized that it just made sense as something he wanted to pursue as a career, and has studied music at Lawrence ever since.
As for education, Stombres views it as a way to give back to the collective music community. The student, absorbing so much from his colleagues and mentors, seems obligated to pass on his knowledge to the coming generations.
"I would really like to try
to pursue performing after Lawrence," said Stombres. "And then once I've experienced that realm, when I'm ready to settle down, I'd look for a teaching job. I don't like to think of it as a fall-back or an A or a B option, though. More like a next step."
Immediately post-graduation, Stombres plans to be an RA at Northwestern University in their Center for Talent and Development over the summer. Afterward he plans to student teach.
Stombres has an impressive list of experience in the musical world. He has participated in concert choir all four years of his Lawrence career and he has performed in the opera each year, including this years "Street Scene," as well as last year's musical "The Drowsy Chaperone." He is the president of Lawrence's chapter of ACDA. For the past two summers he participated in summer stock theater with the College Light Opera Company out on Cape Cod in Massachusetts, in sum doing over 100 performances with the group. He has also traveled to the Czech Republic to volunteer at a music camp and to Sierra Leone to study music and education. Outside of the music, he is involved in campus life as the HRLA of Plantz and has been an active RLA since his sophomore year.
For his senior recital
Stombres hopes to play a selection of music that isn't ordinarily performed. His repertoire includes a lesser-known aria from a well-known Mozart opera, a song cycle by Finzi, three songs by Dvořák, some excerpts from a boldly harmonic song cycle by Fauré, and, ending on a high note, two musical theater pieces by Sondheim and Bucchino respectively. He anticipates a good show and expressed a lot of enthusiasm for the music.
"I definitely need to thank my parents," said Stombres, "who have been nothing but supportive of my wanting to pursue music and education. It's been a real blessing."
From his experience in performance groups to his commitment to his community, Stombres consistently reveals a keen interest in honing his skills and helping to cultivate others'. For an illustration of his knowledge of vocal
performance, be sure to check out Stombres senior recital this upcoming Saturday April 19 at 5:00 p.m. in Harper Hall.