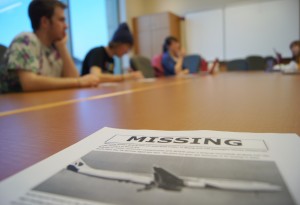 On March 8 2014, Malaysia Airline Flight 370, carrying 239 people, took off at 12:20 a.m. from Kuala Lumpur, Malaysia to Beijing, China. Around 1:30 a.m. the plane disappeared.
As the news began to unfold, the hope of survivors grew slim when Malaysian prime minister announced that the flight ended in the Indian Ocean.
Asia-A created a forum to react to the global tragedy. While the campus organization used to host discussion forums about Asian cultures and values, they recently expanded this to Asian news events.
Sophomore Sophia Wang, coordinator of the event, explained the goals of the Malaysian plane discussion,
"We think a discussion would be a good way to know more about Asian culture and government, [but also as] a good way to remember and pray for the incident."
Senior Chiao-Yu Tuan continues Wang's sentiment. The discussion helped facilitate discussion that might not have happened otherwise.
"I think [this helps] start discussions around Asia and Asian cultures that are relevant to our lives," began Tuan, "As well as giving students opportunities to break the Lawrence bubble and learn more about current events."
Wang began the discussion by asking students what they knew about Malaysia prior to the event. The general response was vague.
Wang continued to organize the discussion around a timeline of events relating to the missing flight. This allowed the topics to vary from possible conspiracy theories to global, specifically American, reactions.
"A professional would know how to redirect the plane," said Wang. This is why officials are suspecting foul-play.
Two of the flight members also had forged passports. Initially, this served as the first red flag to indicate a possible act of terrorism.
The discussion then shifted to the single American passenger on the flight.
"I was surprised that I didn't read a narrative about that guy, " said freshman Kobe Lewin, "Because usually you expect to hear that there was one American and 260 other people."
Despite the original extensive media coverage on the event, the frenzy of information has now been quieted. Participants blame this on the United State's national distance from the event.
"If [a tragedy] happens here, it is naturally going to lead to more of a discussion because it effects everyone more personally," said freshman Ridley Tankersley.
Asia-A hopes to facilitate more intellectual and inspiring conversations in the future.