On Tuesday Apr. 22, medical anthropologist Dr. Paul Farmer delivered Lawrence's spring convocation, titled "In the Company of the Poor."
Associate Professor of History Monica Rico introduced him as an "internationally recognized expert on treating infectious diseases," sharing with the full chapel his accomplishments to date, including a MacArthur Foundation fellowship and a position as U.N. Special Adviser to the Secretary-General on community-based medicine and lessons from Haiti.
Farmer began his convocation with a discussion of his origins in global health work at Duke University, plugging the advantages of a liberal arts education.
"I did what you're doing now, taking advantage of a university and a liberal arts education where you can study whatever you want," he said.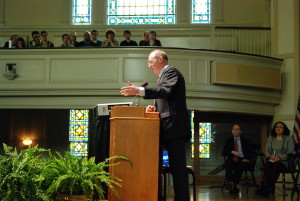 For Farmer, his interest in medicine led him to take "any class with the M word," including a medical anthropology course.
"It opened my mind to a lot of things that had been out here but I hadn't been able to see," Farmer said.
From research on migrant farm workers for a student newspaper, Farmer became interested in Haiti, where he went after graduation, working in a local clinic, the start of his work in international global health.
One of the innovations of Farmer's work is the focus on global health equity, or a belief that standards of health care should be the same for any person in any country. Farmer cites his experience of being hit by a car in Haiti as making clear how unequal current health care access is.
"I had access to hospitals, to insurance," Farmer said. "Stop and think, what is it like not to have those things? To be a poor American family, to be in Haiti? This is not a prudent way to run affairs."
In the pursuit of global health equity, Farmer and Partners in Health, the non-profit he co-founded, rely on a three-part delivery platform for health care: local community health care workers, clinics, and hospitals.
"I was fascinated by how he demonstrated his efforts not only provide a space for health care but provide a space for where the local community can provide the health care," sophomore Razan Anabtawi said. "Even though he didn't stress this a lot, it was an important point. It applies to other aid initiatives worldwide. Making sure you're going there not only to help, but making sure your help will be sustained from within."
For some, Farmer's convocation was a call to action. As Rico said in her introduction, quoting from Farmer's own writings, "None of us are exempt from the moral claims placed on us by the poor and the suffering."
But for some, the convocation didn't quite articulate those moral claims.
"I was hoping for something that would connect Lawrence students to a need to act, and I didn't get it," Anabtawi said.
The last convocation for the year is Honors Convocation on May 29, where Professor of Music nd Chair of Keybord Studies, Cathy Kautsky will give a talk titled "Whispered Doubts and Shouted Convictions: What are These Composers Saying?"