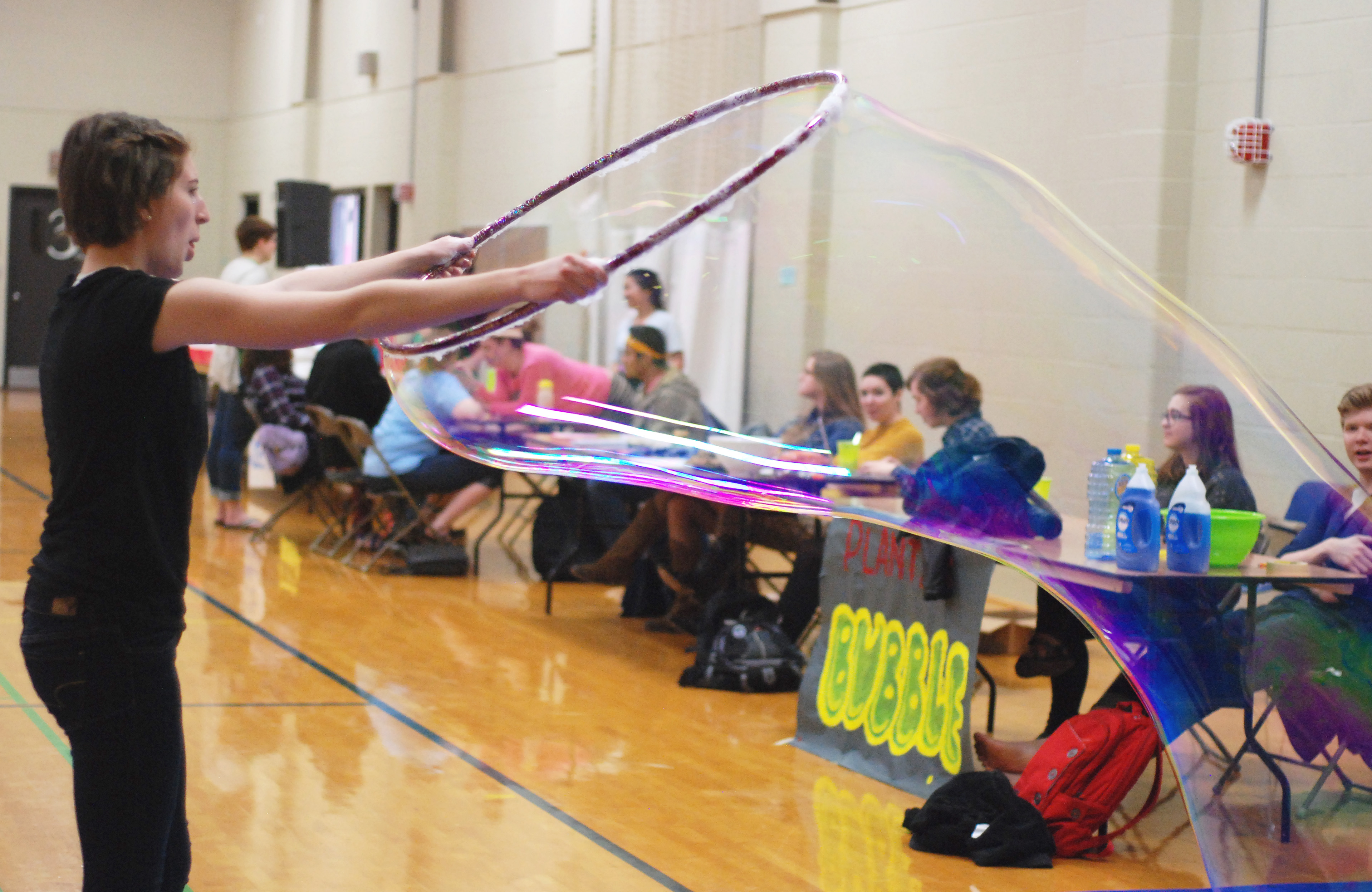 Ormsby Zoo Days, the annual carnival of activities, food and fun, was hosted by the residence hall's staff and took place in the Buchanan Kiewit Wellness Center gymnasium on the afternoon of Saturday, May 3. Student groups held tables of activities, food and games for students either to raise money for or awareness of their group.
The annual well-loved Lawrence tradition re-emerged in 1999 after a hiatus and has been revived every year since. Despite the sunny, warm weather outdoors, planners moved the event indoors because the ground conditions were not suitable for the inflatables due to rain in the days leading up to the event.
This is the first time senior and Head Residence Life Advisor of Ormsby Sam Clary has been involved with organizing and coordinating Zoo Days. "I did come several times when I was a freshman and sophomore so I've definitely seen what Ormsby Zoo Days can be," said Clary. Clary also says he has turned to Ormsby Hall Director Sara van Steenbergen to answer his questions about making the event happen.
"Mostly what I wanted to do is reach out to a lot of student groups and luckily a lot of them were able to attend," said Clary. "Luckily, if the group is involved, more people are going to show up because they'll want to support their group." Weeks prior to event, Clary confirmed 30 student clubs and organizations, sororities and residence hall staff. Clary said he wanted to advertise faster and sooner in order to "get as many people involved as possible to everyone knew about it."
"I think Zoo Days gives students the opportunity to relax and have fun when things can get really busy spring term," said Clary. "For clubs, it's a chance for to do things directly related to their mission statement through fund-raising or even having snack-related activities."
Activities included a soap bubble station hosted by Plantz Hall staff and Frisbee bowling hosted by the Ultimate Frisbee team. There were also tables raising money for their group or another organization, such as 50-cent lemonade sold by the Panhellenic Council in which proceeds went to the Sexual Assault Crisis Center of the Fox Cities.
"I think a big thing that they did well this year was they didn't make anyone have to shell out money," said attendee sophomore Ethan Perushek. "It was mostly just small free stuff so then people wanted to walk around more."
Free items offered to students included root beer floats from the Trever and Executive Halls staff, temporary tattoos from the sophomore honor society Lambda Sigma, cupcakes and DJ-ing of the event from the Ormsby staff, and beaded friendship bracelets by Lawrence National Alliance on Mental Illness. Residence Halls also donated portions of their yearly allocated funds to Ormsby for the event.
This year there was to be oversized inflatable armor and clubs for sparring. Assistant Dean of Students for Campus Life Curt Lauderdale donned an inflatable outfit and sparred Sage Residence Hall Director Drew Stuart to the amusement of students who were quick to video record it on their phones.
"It's entertaining, it's fun and it's goofy," said Perushek.