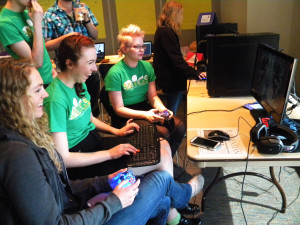 By Ruby Dickson
Last weekend, May 3 and 4, LU Gaming Club hosted the second annual Women and Identity in Gaming Symposium (WIGS), sponsored by SOUP, Panhellenic Council and the Seeley G. Mudd Library. This year's Symposium centered on the discussion of gender and identity- related issues in the gaming community.
Friday night kicked off the events with a midnight screening of the popular 2012 animated comedy "Wreck it Ralph," about an arcade villain who rebels against his role to become a video game hero, battling different threats and stereotypes along the way.
Saturday morning was packed with Symposium events. A late-morning meet and greet, where attendees were invited to mingle with the various speakers, preceded a series of presentations on issues in the gaming community. Junior Shay Albrecht gave an introductory presentation on gender and identity, including the portrayal of women in the gaming world to set the stage for the weekend's exploration.
Several presentations followed. Jenny Haniver, a well-respected critic of sexual harassment in online gaming, gave a presentation on the issues she often confronts in the gaming world. Her talk included presentation of times she has been attacked in games through a number of different media including audio clips and personal messages. She also presented a variety of ways that the gaming community could improve including having a better reporting system in all games.
In her presentation, "Creating Safe Spaces and Fostering Positive Discourse," Ashly Burch discussed the importance of creating safe spaces in games so that dialogues regarding separations between people can be discussed in a calm and mature way. Burch is known for her starring role in the popular YouTube gaming series "Hey Ash Whatcha Playin'," as well as for her voice acting in such popular media as "Attack on Titan" (Sasha Blouse), "Borderlands 2" (Tiny Tina, Bane) and "Saints Row IV" (Ash). As a straight woman who has faced criticism from minority communities for some of her work, Burch discussed the importance of being a good ally. Her presentation also focused on how to create safe spaces for the purpose of discussing issues of gender, sexuality, race and identity—goals very much in line with the intentions of the Symposium. A Q&A followed.
The next event was the "5×5 Presentations" in which five Lawrence students and community members (Chistopher Gore-Gammon, Angela Vanden Elzen, Sara Johnson, Max Mogavero, Alex Wang and Evan Class) delivered short presentations to the Symposium attendees. Each presented their views and experiences on things such as Ethnicity in gaming ("Where's the Ethnicity," "Women in Dance Dance Revolution,"  and "Queering Tabletop."
Participants were urged to visit the Games Expo, which was going on throughout the weekend, to learn about specific games that illustrate the problems address throughout the weekend, and others that help find solutions. Attendees could play different games, and talk with other socially conscious members of the gaming community about the Symposium's topics of discussion. During this time Greta Dohl, a leader of the organization committee, led a discussion about gaming and identity in the news by presenting various articles from many sources.
Saturday evening, Haniver and Burch joined Allison Salmon and Helen Rowe '13  in a panel to discuss topics in gaming and social justice. Audience members were invited to participate in the discussion by asking questions of the panelists and by providing yet another bit of perspective to the diverse and knowledgeable panel of academics, industry professionals, and community members.
After dinner, attendees were welcome to play a wide range of board and party games in "Sexist Games Night." Another movie, Paul W.S. Anderson's 2002 "Resident Evil," followed.
The Symposium continued Sunday, starting with a meet and greet and a presentation from Helen Rowe '13. Rowe works in the gaming music industry. Following brunch, a Role-Playing Games Hour gave opportunities for those unfamiliar with RPGs to understand all that goes into creating a character.
Next, Allison Salmon, a game developer from Games + Learning + Society and the Learning Games Network, gave a talk about her own experiences in the gaming industry as a game developer and woman as well as ways that the industry can continue to evolve.  Her message, that it is possible to reshape the industry over time and encourage more women and minorities to participate in gaming and game creation, was well received at the Symposium.