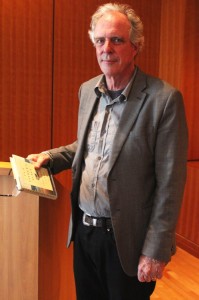 Best-selling and award-winning writer Christopher Tilghman, author of the novels "Mason's Retreat" and "The Right-Hand Shore" and professor at the University of Virginia creative writing MFA program, visited Lawrence this reading period. On Thursday afternoon, he began his visit with a reading and question-and-answer session in the Pusey room of the Warch Campus Center.
Tilghman sets much of his writing on the Eastern shore of Maryland in the second half of the nineteenth century or the first half of the twentieth century, where his family has owned land for many generations. In his writing, he tends to draw on family lore and his personal knowledge of the land and people for material.
For the reading, Tilghman chose to read the short story "On the Rivershore" from his first published book, a collection of short stories entitled "In a Father's Place." This story in particular is about a boy becoming disillusioned with his father after discovering that he's involved in a dishonest and violent act. As with most of his work, in this short story Tilghman explores universal human emotions, experiences, and relationships within a distinctly American historical context.
After reading the story aloud, Tilghman answered a couple questions relating to his work and life. In contrast with how many writers seem to view their characters, Tilghman asserted that he doesn't think of them as self-determining individuals with complete free will, but rather almost entirely as products of their cultural and historical contexts.
This belief can help to explain the inevitable feel to some of Tilghman's storytelling, such as in his novels "Mason's Retreat" and "The Right-Hand Shore." Readers can see the end coming for almost the entirety of the story because of the certainties of history and narrative. However they keep reading because along the paths to their destinies, Tilghman's characters continually surprise with the depth of their unpredictable humanity.
As a writer, Tilghman is deeply concerned with the everyday human motivations behind acts that can change the course of history for other people and for the land. Although they have been formed by their cultures and histories, the character also become creators of culture and history as they live their lives. This trend in his fiction renders Tilghman's writing at once mundane and sweeping, particular and mythic. It's as enjoyable to read his writing for the rich details as for the tug and pull of a grand narrative.
Since Tilghman is one of the most distinguished modern American novelists, he provides a role model for aspiring young writers. He visited Lawrence specifically to spend time talking and participating in writer's workshops with Professor David McGlynn's advanced creative writing course for fiction. He had lunch with them on the campus and then accompanied them to Björklunden, where he led a workshop for short pieces that they wrote and talked informally with them. As a teacher, he is very generous and nurturing.
If you have not read anything by Christopher Tilghman before, I highly recommend "Mason's Retreat" in particular. Tilghman is a significant figure in modern American literature and a true treat to read. And hopefully this weekend he helped to shape even a little bit some talented young writers who will one day end up sharing their gifts with the world.