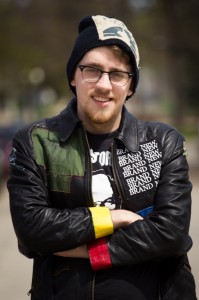 "If you're afraid to die, then so am I," reads the quote tattooed on Joram Zbichorski's right leg. This line comes from the gorgeous finale of "Getting Sodas" by emo revival band The World is Beautiful Place and I am No Longer Afraid to Die. Good music and personal lyrics, all there imprinted on his skin. A solid illustration of what Zbichorski is about.
Zbichorski is a guitar performance major. He began in music with piano in second grade. He didn't care for it much and later on in elementary school he switched to trumpet. Still not in his element, he switched to electric guitar in seventh grade. This instrument suited him much better, although he only dabbled in the basics. At last in his junior year in high school he obtained a classical guitar and began to take music more seriously. He practiced in more complex guitar methods, auditioned at Lawrence on classical guitar, and was accepted.
"I like that it's a really versatile instrument," said Zbichorski. "People expect a lot of you as a guitarist. They expect you to be able to play rock, play whatever."
Now in his senior year Zbichorski is a member of two campus bands, Bendata Bendata and Snort. The former is a three-piece band in which Zbichorski sings, plays guitar and writes the music and lyrics. It is more personal of a project. The latter, meanwhile, is a five-piece instrumental collaborative effort, with each member bouncing ideas off each other, making room for a more eclectic style. He also performs with Ilan Blanck '16 in a classical guitar duo.
"With Bendata Bendata I have to be really focused on both singing and playing guitar," explained Zbichorski, "but with Snort I can just kinda let go and play."
Zbichorski is interested in math rock, which is a complex derivation of progressive rock that emphasizes complicated rhythms, heavy finger-tapping styles and unique tuning and effects. He is influenced musically by guitarist Victor Villarreal. Lyrically he is introspective, taking inspiration from the bands he listened to as a teenager like Brand New and Say Anything.
Both bands frequently play gigs in the area, such as Seth's Coffee Shop in Little Chute and the Reptile Room in Oshkosh. Recently, Bendata Bendata and Snort toured over spring break, performing eight shows in ten days, travelling between Wisconsin, Minnesota and Illinois. Their next performance will be opening for the Ballroom Thieves on Saturday, May 17 at 7 p.m. on Boldt Plaza in front of Warch Campus Center.
Zbichorski is also involved in the improv scene at Lawrence. He is RLM of Comedy House and former leader of the improve group Optimistic Feral Children. He noted his family's enthusiasm for watching "Seinfeld" when he grew up as the chief reason for his interest in comedy.
Zbichorski is also a theater minor. He wrote a play titled "Fish Eye" that will be put on by the Greyfell Theater Company in early June.
After graduation, Zbichorski is moving to Chicago and interning with a group called Phantom Note Productions, a small company that specializes in band booking and concert production.
Between his musical work, his involvement in the improv scene and his interest in theater, Zbichorski has proved himself as someone who can both express himself individual and someone who can cultivate a highly productive and tight-knit group. Be sure to keep an eye out for Bendata Bendata, Snort and all other things Zbichorski-related in the future.