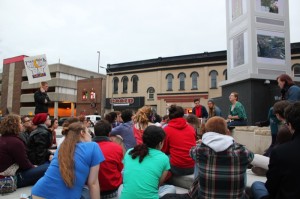 By Margaret Koss
On Tuesday night, Lawrentians gathered in the Wriston Auditorium for Take Back The Night, an event held by the Downer Feminist Council to raise awareness about rape culture. The event originally included a speaker, Maya Dusenbery, followed by a march down College Avenue. Dusenbery was unfortunately unable to make it, so sophomore and DFC president Tracy Johnson spoke in her place.
"Shatter the silence – stop the violence" was written on the board in front of the room as Johnson stepped up to the podium. Johnson described the purpose of Take Back The Night and provided history about the movement. "Take Back The Night marches have been held in the United States since the late 1960's to protest gender-based violence against women, specifically domestic abuse, sexual abuse, and rape. It has since been brought in to include the safety of all gender identities," Johnson said, and continued, "Statistics show that nearly 1 in 5 women have been raped in their lifetime."
At least 1 out of every 3 women worldwide has been beaten, forced into sex, or otherwise abused in her lifetime by a partner, relative, friend, stranger, employer, and/or colleague. Of these crimes, less than 50% are reported to the police. The mission behind Take Back The Night is to change these statistics and raise awareness – especially the fact that rape, most often, is not a crime committed by a stranger. "Most victims know their perpetrators," Johnson stated. "51% of female victims were raped by a current or former intimate partner, and 41% were raped by an acquaintance. Stranger rape, in contrast, accounts for 14%."
The event garnered a lot of interest on campus; young people are at the most risk for these crimes and should be educated about rape culture. However, this year, amidst numerous changes to how rape culture is handled on college campuses, this event has become even more important. Johnson described these changes as including "55 influential universities under investigation, the very public dismantling of the Greek system at Amherst College, as well as the expansion of Title IX, which lays out new requirements to which all colleges and universities, including Lawrence, will need to adhere, such as required entrance counseling for all new students on sexual assaults and consent education."
Although Lawrence is not under investigation, it is important for students to be aware of the rape culture on campus. Johnson referred to a 2012 survey of Lawrence students in which "11% of female students and 5% of male students reported being touched without consent in the last 12 months. Lawrence's rate of male on female sexual assault is consistent with the national average, but the rate of male on male is much higher."
The talk was followed by a march down College Avenue to Houdini Plaza for a candlelit speak-out where victims were able to share their personal stories. Although it is a sobering subject, the event proved to be valuable and empowering. Freshman Audrey Cuthbert said the experience made her realize "how rape can affect more than just the victim, it can affect everyone around them. It made me realize that support and comfort can be found in more than just close family and friends, but those willing to listen."
And support is available in many forms. Campus resources include the confidential, free service of the sexual assault nurse examiners at St. Elizabeth's Hospital, which can be visited anytime after being assaulted, although it's recommended after 72 hours. For more information on counseling options, visit the sexual harassment and assault resource board at DFC.
Johnson concluded plainly and simply, "No matter who you are, someone in your life has been affected by sexual assault. We must recognize that we shape our community, and that it is our responsibility to firmly, courageously, and unequivocally state that what we have witnessed is not acceptable."