Cam Davies — Outdoor Track and Field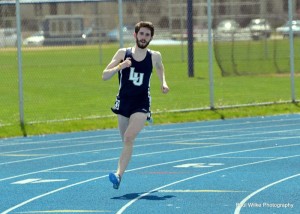 Since the beginning of his first season on the men's tennis team, freshman David Jumes has been a standout player. Jumes paired with sophomore Adam Busch in the No. 2 doubles spot, and he also excelled as the Vikings' No. 2 singles player. He finished the season with a 4-0 record in the North Division of the Midwest Conference (MWC) and 2-1 in the South Sophomore Cam Davies extended his strong season in the Midwest Conference (MWC) Championships, grabbing third-place a finish in the 1500-meters with a time of 4:02.69. With this time, Davies paced the Lawrence University track team on the opening day of the MWC Championships in Grinnell College. The following day, Davies took fifth in the 3000-meter steeplechase with a time of 9:57.91. Only a sophomore, Davies has shown tremendous talent and potential to impact the MWC for years to come.
1) How do you get yourself ready for a race?
Typically, I like to prepare for my race by trash-talking the other competitors, specifically teammates. Not to their faces, of course. That would be mean. But sometimes I'll just mutter under my breath about how much cuter I am than Hayden Hoffmann, or how dorky Jamie Brisbois' thigh tattoo is. That's always a huge confidence booster.
2) What has been the hardest part of the season?
Without a doubt the hardest part of my season was fighting through tendonitis in my knee. Sometimes I felt like my knee was going to implode. It made jumping over hurdles really difficult, which naturally made the Steeplechase a struggle. It also meant that I had to gimp around campus like a goober. I could barely make it up the Warch stairs without crying out in pain. People judged me. Please don't judge me, Lawrence.
3) What is your favorite part of a race, and why?
I really like the water jumps during the Steeplechase. Every time I go over one, one or both of my feet plop into the water. It's like my feet are taking a bath. Not a very clean bath, mind you, seeing as the water pits are always filled with goose poop and dead worms and stuff. I hope one day they fill the pit with soap and turn it into a bubble bath. Then my feet can truly feel luxury.
4) What has been your proudest moment while running competitively?
I was really proud when I won the Indoor 3000-meter run and broke the school record. I've always been second best: even when it comes to running and facial hair, which happen to be my two strongest attributes, my six-time All-American older brother will always have me beat. But for one fleeting second, I got to be the best. I was the best on the team, I was the best in the Midwest Conference, I was the best in Lawrence University history. Wait, that sounds kind of cocky. Sorry. If it makes you feel any better, my brother can run the same 3000-meter time I did, only over hurdles. Literally. So I'll always have that to keep me humble.
Mike Mangian — Outdoor Track and Field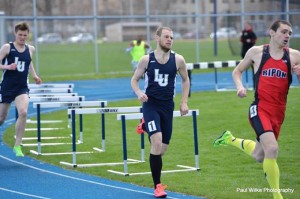 Senior Mike Mangian has served as a leader on LU's track and field team for all four of his years at Lawrence. At the MWC Championships, Mangian competed in the 800-meter relay and the 4×400 meter relay with fellow senior Dan Thoreston and sophomores Tyler Herman and JP Ranumas. During the Lawrence's Viking Invitational on Saturday, May 3, Mangain took second with a time of 1:58:38 bumping him into some of the top placers for the conference. The 4×400 relay also took second with a time of 3:41:34. Mangian ended his career on a strong note and has made a lasting impression on his team.
1) Why did you start running competitively?
I began running competitively my freshman year in high school. Before then, running and I did not get along but it has really grown on me as I have continued running. My first day at cross-country practice was the first day I ran more than a mile in one day, and now I try to run more than a mile every day. There is nothing more satisfying than finishing a race and knowing you've given everything you could. That is why I haven't stopped.
2) What goes through your mind during a race?
Because my races don't last very long I don't get to think about much, but I like to break my race in to reasonable sections to make them easier to complete. Sometimes at the end I imagine that I am chasing one of my teammates in practice, because that is something I am more familiar with. It makes finishing tough races so much easier.
3) What has been the highlight of your season?
Individually, the 800 I ran at the home meet was a great highlight. I almost won the race, I pushed my competitor to his best time ever, and now we are friends! It has been a blast being able to make connections with runners from other schools. However, there is nothing better, in my opinion, than racing together with Tyler Herman, Chris Fuelling, Dan Thoresen, Kevin "Fitzy" Fitzgerald, Sam Stevens, Cam Davies, Pat Mangan and JP Ranumas. They are all amazing athletes and Tyler, JP, Cam, Pat and Chris are integral parts of this team's future. With them at the helm Viking Track is in good hands. Dan is my training partner and we have gone through a lot together, so whether we are racing each other or on the same team it has always been a pleasure to be on the track with him. Competing and training with my teammates every day for the past four years has made every day a highlight.
4) Who has been your biggest supporter, and what makes them special?
My biggest supporters have been my family, my girlfriend Chelsea and my teammates, but especially the seniors on the team. They have always had my back and I couldn't have competed as well as I have without them by my side. Lawrence Track and Field has been a huge part of my college experience and would not have been that way without all of their support.