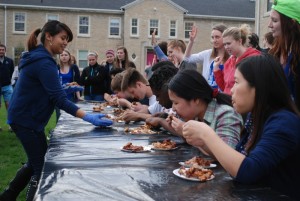 By Mackenzie Rech
Lawrence's annual "Greek Week" kicked off Monday, May 12 with a lip sync competition in the Wriston Auditorium.
Greek Week is a time for Greek organizations to show off their pride and to engage the larger campus community. Each Greek organization holds their own event during the week to support and raise money for their respective philanthropies. Other social events such as the lip sync competition and the all-Greek party occur during this time as well.
Faculty Greek Advisor, Ellie Crean, describes the overarching purpose of Greek Week.
"It is generally an opportunity for each Greek chapter to showcase what their philanthropy is all about and be proud of the fact that they're part of the Greek community.  It is one of the only times throughout the year when all of the chapters come together to work on something," Crean said.
In the past, Greek Week has been associated with the three sororities on the Panhellenic Council and the four fraternities on the Interfraternity Council. However this year, the decision was made by both councils to open up participation in Greek Week activities to all Greek organizations on campus. The new organizations participating in this year's festivities include events hosted by Lawrence's predominantly African American sorority Beta Psi Nu, Lawrence's music sorority Sigma Alpha Iota, and Lawrence's music fraternity Phi Mu Alpha Sinfonia.
"I thought that it would be good to involve all of the greek organizations in lip sync and then that kind of expanded into all of them doing an activity as well," junior Kappa Kappa Gamma member and Panhellenic Council President Michelle Farrand said.
Another goal for this year's Greek Week was to expand it to engage more of the  students on campus.
"This is the first year that there is a big all-Greek party at the end. Normally we do an all-Greek formal but this year we're doing an all-Greek party that's open to all of campus instead. It's the first time in decades that that's happened so it's new and exciting," Farrand said.
Junior Delta Gamma, Morgan Gray also expressed excitement on the decision to open participation in Greek Week to more student organizations.
"I think the more people that can join and participate, the better. I like variety, it's the spice of life," Gray said.
This year, Kappa Kappa Gamma took home the first place title at the lip sync competition with their performance "The Evolution of Miley Cyrus".  Kappa Alpha Theta came in second place while Beta Theta Pi and Beta Psi Nu tied for third place.
Other events coming up during Greek Week include Phi Kappa Tau's Grill Out on Friday from 11 a.m.-1 p.m., Beta Psi Nu's Field Day in the Quad on Friday at 5 p.m., Beta Theta Pi's Pancake Breakfast on Saturday at 10 a.m., Delta Tau Delta's Grill Out and Volleyball Tournament on Saturday at 5 p.m., and Sigma Alpha Iota's Musical Chairs on Sunday at 2 p.m. in the Wellness Center.
The all-Greek Party will be held Saturday evening on Boldt Way from 9-11 p.m. and will feature live music. All Greek Week events are open to everyone.