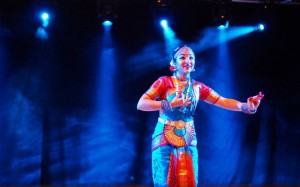 Hosted by Lawrence International, the 38th annual Cabaret filled the chapel with dance, clothes from around the world, and audience members on the night of Friday, May 9. The event included two fashion shows, two vocal performances and many dance performances. In addition to the many campus groups that Cabaret rallied, it also brought in Fox Valley community members including some local children.
Diana Szteinberg, President of Lawrence International, introduced the event. She spoke briefly on the topic of what it means to be an alien, about her experience as a "citizen of the world" and how it was the aim of cabaret to make everyone feel like a "citizen of the world." Next, Steinberg introduced the other members of the Lawrence International board who all had a part in bringing Cabaret to life.
Following Szteinberg's introduction, the Masters of Ceremony: Andre Augustine, Brienne Colston and Jazmin Astwood set the scene for the night as a terminal waiting for an airplane that was going to travel the world. This fit in with this year's theme of "Cultural Connection: Arriving at the Global Terminal."  This year's theme was a more integral part of the program than in recent years with programs being printed to look like boarding passes.
The first of the dances was "Soul of Vietnam" which was a mix of both modern and traditional Vietnamese.  India was represented by two dances. The first was a classical solo dance that told stories of the Hindu god, Krishna. The second was called "Bollywood Shakthi" and was performed to a variety of modern Bollywood songs.
Senior and former vice president of Swing Club, Michael Friend, said, "It's interesting to see the similar movements between dances. They are all very different but there is a degree of similarity. " After demonstrating a swing-style rock step Friend added that he was "sure there's something profound in there but I don't know what."
"Denkyemfunefu" was a mixture of Ghanaian tribal dances and a contemporary azonto dance. Other dances included a Middle Eastern belly dance, a South Asian Mehndi, and a Peruvian Festejo.
In addition to the dances and the fashion shows, there were two vocal performances. The first was "Adieu" which was originally sung by Gabriel Faure with poetry from Charles Jean Grandmougin. At Cabaret it was performed by Annie Penner. The second was entitled "Rhythm of Thai" and was a medley of three popular Thai love songs. This was performed by Nutt Punnanitinont and Patt Tejapaibul.
Before the final dance which was "Matsuri," a celebration of spring festivals through traditional and modern dance, the masters of ceremony located President Mark Burstein in the audience and took a selfie with him. Burstein reported that he thought that this year's Cabaret was "a fantastic event that displayed both amazing difference but also amazing connectivity."
Following the performance, there was a reception in the Somerset room at which performers and audience members mingled over finger foods from around the world.  This is the first year that this was a reception and not a formal dinner.
Sophomore and participant in "Ka Mate! Ka Mate! -Maori Haka," Josh Mosley became involved in Cabaret after a friend suggested he join. Regarding the Maori Hakka, Mosley said "The energy during it was so great. It was great to see the energy from the other performers and to feel it myself."
Planning for the event began during winter term. This involved picking a theme, advertising, organizing the reception after the performance, and choosing which groups would perform. Originally 21 groups auditioned and 13 were chosen to be a part of Cabaret.
Lawrence International President, Diana Szteinberg said, "This event is very important because it helps us to expose everyone to our cultures to allow them to learn from them."
Lawrence International is a student organization whose goal it is to bring attention to the cultures of the world including the many cultures that are represented in the Lawrence and Fox Valley communities. Lawrence International also puts on various formals, dinners and meetings.
Sophomore and participant in "Lei Pikake", a hula dance, Jenni Sefcik said "It was so much fun to be a part of."